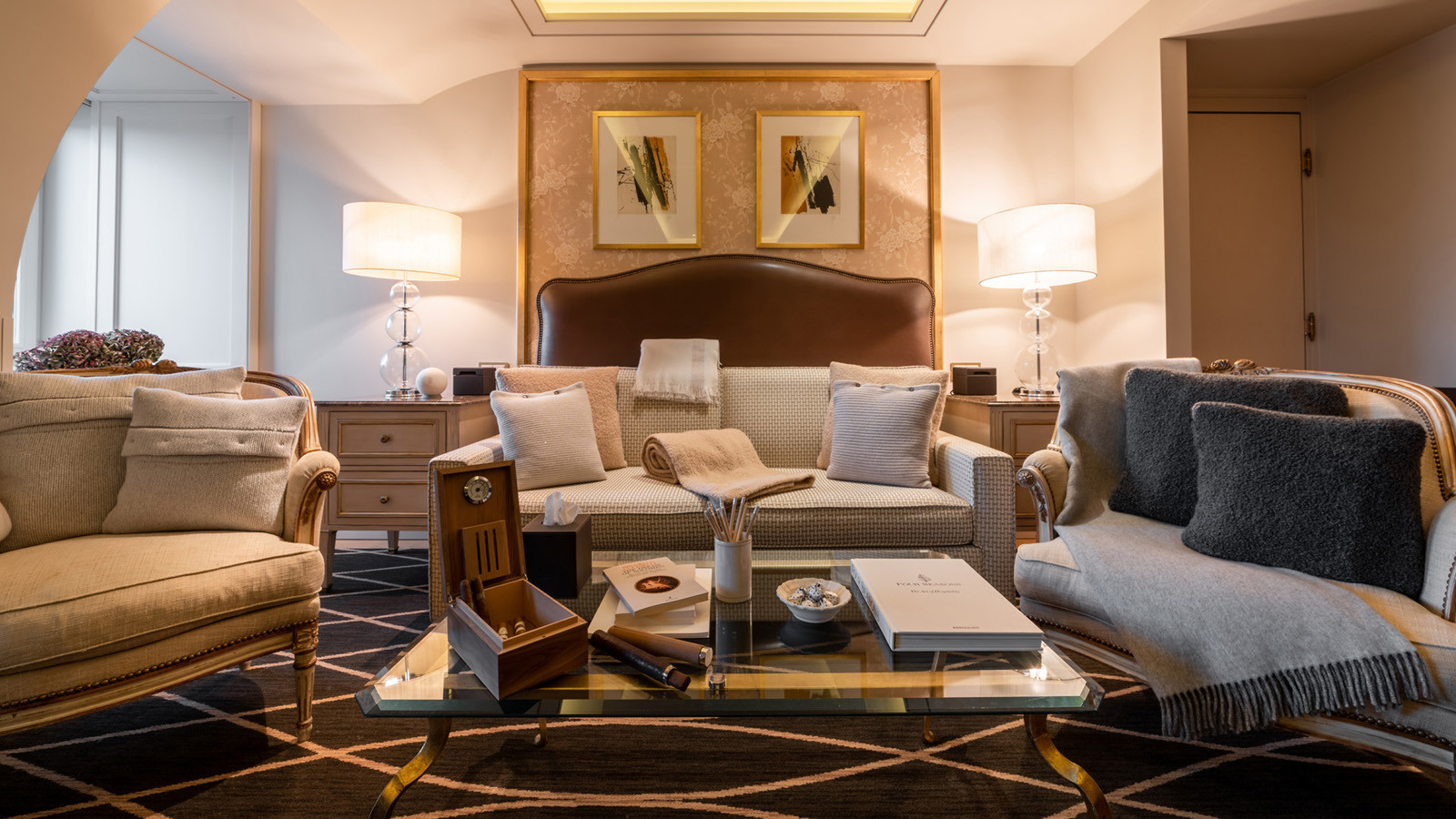 Offering guests complete privacy in a safe design-led setting, Izumi Private Dining features a menu curated by talented Japanese chef Mitsuru Tsukada
Four Seasons Hotel des Bergues Geneva has launched Izumi Private Dining, a refined, private space with interiors by Italian luxury brand Brunello Cucinelli. The experience takes place in the Hotel's fabulous 6th floor Loft suite, making it the perfect spot for guests to enjoy a meal with friends, colleagues or family in an intimate setting. The room exudes a warm and cosy feel, with a cut-stone fireplace and a sophisticated lounge area.
Accomplished Japanese Chef Mitsuru Tsukada is behind the menu, bringing creative Japanese-fusion dishes with unexpected flavour combinations, such as the grilled octopus, celery root and gorgonzola purée, smoky chili sauce. Tsukada is the Chef of Izumi, the Hotel's celebrated Japanese-fusion restaurant that has an enviable location on the Hotel rooftop, offering panoramic views of Geneva and the snow-capped Alps. Tsukada's Nikkei creations offer a wide variety of flavours, with dishes inspired by natural elements including light, water, air and fire. Subtle Peruvian influences add depth of flavour, with dishes such as seabass and sweet shrimp ceviche and pan-fried breaded turbot filet with jalapeno sauce featuring on the menu.
Designed in collaboration with Brunello Cucinelli, the dining room features bespoke pieces from the Cucinelli homeware collection. Renowned for his timeless, understated style, Cucinelli is synonymous with effortless elegance. Modern materials and Italian craftsmanship come together, with natural fabrics and traditional patterns in warm earthy tones used to create a relaxed, laidback atmosphere.
Stylish table objects reflect Italian craftsmanship, with drinking glasses moulded by hand by expert glass makers, and sophisticated bottles finished with artisan glass-blowing techniques. Pure linen table runners in muted natural tones create a cosy, homely look, adding a sense of rustic luxury to the table. Ceramic candles are handcrafted by skilled artisans in Umbria, while cushions are made with soft fibres combined with silk to create a soft bouclé yarn, with a decorative metallic beaded tab that is the result of a delicate and laborious embroidery technique.
As well as being able to make the most of a comfortable, stylish setting paired with exceptional cuisine, guests will be able to enjoy the warm and highly personalised service Four Seasons Hotel des Bergues has always been known for.
The Izumi Private Dining Experience is available 7 days a week from December 10, 2020 and limited to 4 persons.
Article source : https://frama.link/M5aywRvc