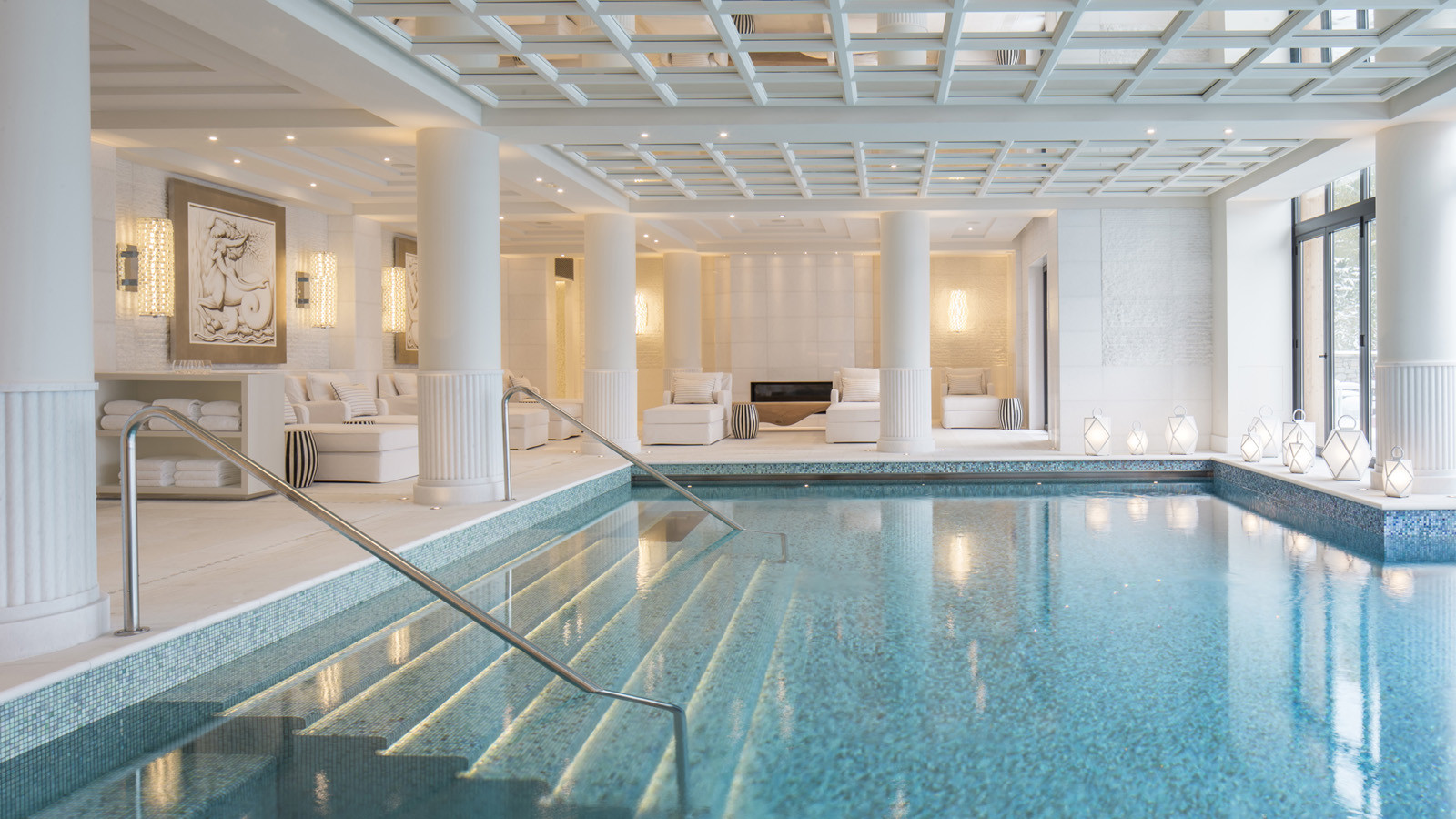 If dining at the brand new La Dame de Pic - Le 1920 was not enough of a reason to visit Megève this winter, here are a few more. Guests can now fully enjoy staying at the only ski-in, ski-out resort in the Rothschild-built terroir, stay at the new Mont Blanc signature suite, relax at the largest, most comprehensive hotel spa in the French Alps and experience first-hand the three new luxury spa brands.
Introducing La Dame de Pic - Le 1920
With a presence in Paris, Singapore, and at La Dame de Pic London (at Four Seasons Hotel London at Ten Trinity Square), the three-star chef will offer a new culinary experience as the doors to Four Seasons Hotel Megève reopen on December 18, 2020. The restaurant's name pays homage to the historical arrival of Noémie de Rothschild in Megève a century ago, while honouring the newfound collaboration between Chef Anne-Sophie Pic and Ariane de Rothschild, who both share an appreciation for the beauty and authenticity of the quaint mountain village. At the heart of the newest culinary offering at Four Seasons Hotel Megève is a connection to nature and an aim to spotlight the local producers behind the region's gourmet delights. Anne-Sophie Pic will draw her inspiration from La Ferme des Trente Arpents, owned by the Edmond de Rothschild family in the heart of the Briard region, producing cheeses, honey, terrines, and olive oils. Diners are invited to explore the dining establishment's commitment to showcasing local flavours on a global stage.
"To me, Megève has always been synonymous with escape. Over the past few years, I have discovered a truly inspiring terroir here. Four Seasons is a remarkably unique place to further enhance this terroir," says Chef Anne-Sophie Pic.
2020 Marks a Unique Milestone for Four Seasons Megève Collection Hotels
Think back one hundred years and imagine a pristine mountain village nestled in the heart of the Alps. That's when Noémie de Rothschild discovered Megève, and in 1927, convinced of the village and the region's tremendous skiing and tourism potential, she built Chalet Noémie. The Chalet is now part of Les Chalets du Mont d'Arbois, Megève, A Four Seasons Hotel.
"Megève means Christmas with the family, and precious time spent with my family and in particular with our four daughters, who all learned to ski on the slopes of Mont d'Arbois. Megève is first and foremost a very strong family base," says Ariane de Rothschild.
A New Ski Lift Departing from the Hotel, for "Ski-In-Ski-Out" Access to the Slopes
Only in Megève can guests slide down 100 kilometres (62 miles) of pistes, and discover quiet runs where pine trees bend under the weight of freshly fallen snow and enjoy spectacular views of Mont Blanc. But it's not just the ski-in ski-out aspect that sets Four Seasons Megève Collection apart from the rest of the pack.
Inside the Hotel's comfortable ski-room, guests will be fitted with pre-heated ski boots while sipping a black coffee or a frothy hot chocolate. Meanwhile the Hotel's ski concierges and ski valets bring together tailor-made experiences and ski packages, book heli-ski safaris for the adventurous guests, instructor-led skiing lessons for the little ones, all while offering only the very best gear. Guests need only put their skis on and the new ski lift will drop them off on the famous Mandarines slope.
The Mont Blanc Suite, a Floor of Luxury and Privacy
This winter Four Seasons Hotel Megève unveils the Mont Blanc Suite, the property's most prestigious signature suite occupying the Hotel's entire 5th floor and offering panoramic views of the Aravis mountain range. The new suite connects three bedrooms and two smaller suites. Created with families in mind, the suite features a spacious open-plan living and dining area offering a contemporary residential feel, complete privacy and the ideal setting for relaxing.
As Pierre-Yves Rochon, who redesigned the different spaces together with Ariane de Rothschild, highlights: "We have chosen new and lighter tones in a green colour harmony in reference to nature in the summer." The style of Henry Jacques Le Meme, a famous architect of mountain chalets, inspired the design of the wooden ceilings and granite bathrooms, and Ariane de Rothschild hand-picked the works of art adorning the suite's walls, bringing it all together with her unique taste. Key design elements include the alabaster table in the dining room and its hammered steel structure as well as luxurious master bathroom with an opulent free-standing bath and a mountain view.
Three New Brands at the Heart of Four Seasons Megève Collection Spas
Four Seasons Megève Collection introduces three new brands and a unique selection of treatments and facials in their Spas. Natural skincare brand Olivier Claire offers beauty products formulated with bio-active ingredients that support the natural function of the skin, combining wellbeing with optimal effectiveness. Products treat signs of ageing by combining fresh plant cells such as sunflower pollen, a strong antioxidant, with wakame seaweed and native sea fennel cells, both renowned for their regenerating properties. Swiss Perfection was the first brand to integrate plant cell extraction technology into cosmetics. Aiming to provide the most advanced solutions in anti-aging care, it uses the Cellular Active IRISA complex, combining Swiss quality and know-how. Finally, Well CBD, available exclusively in Europe at Four Seasons Megève Collection. All Well products are made of clean ingredients, vegan, cruelty free, non-GMO, gluten free and are infused with the brand's own essential oils such as lavender, lemongrass, and tea tree.
"Among the multiple brands in the market, we have meticulously selected Olivier Claire, Swiss Perfection and Well CBD. This combination of products is in perfect alignment with the Rothschild family's heritage as well as the luxurious Four Seasons experience. With the natural aspect of Olivier Claire, the reputation of SwissPperfection, and the fact that we'll become a forerunner with Well CBD, we will be bringing a collection of well being options to our guests," says Audrey Remy, Spa Director.
Whether returning from the ski slopes, ice skating or climbing, weary limbs be gone with soothing new treatments and relaxing heated pools that extend right out into the mountains where guests can glance at the snow falling silently on the Alps outside.
Article source : https://frama.link/9ubdKXt2