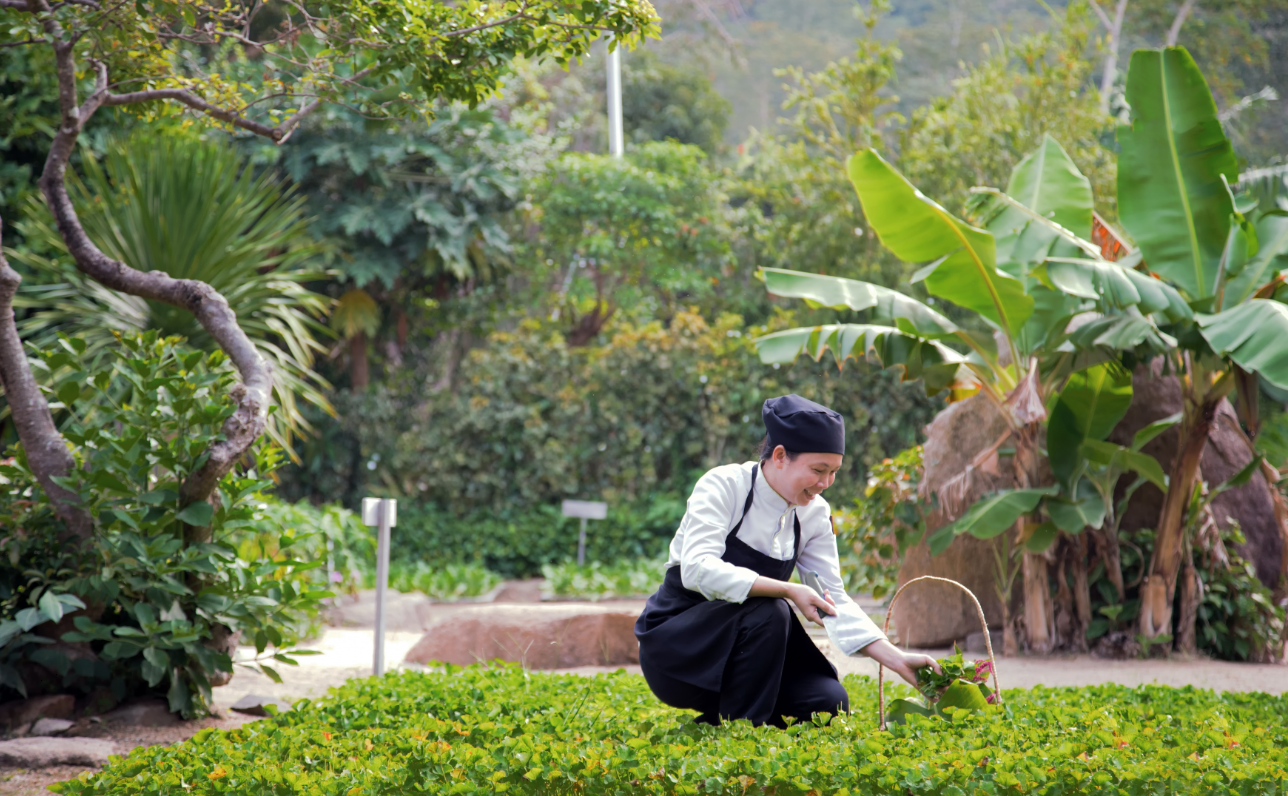 Six Senses Ninh Van Bay is thrilled to introduce Ninh Van Greens, the first in-resort solar farm in Vietnam, named after the resort's unique location and the idea of harnessing solar to power the resort while growing crops for the restaurants and spa. The Ninh Van Greens solar complex has the resources to produce electricity, organic vegetables and fruits, and hot water.
Make hay while the sun shines
One of the significant highlights of Ninh Van Greens is that the solar farm houses a 17,222 square-foot (1,600 square-meter) organic garden called Solar FreshCuts. Due to the ingenious placement of the solar panels, the land beneath them can be used to grow organic food crops while energy is being produced. The 800 individual solar panels are arranged in rows, tilted along a hill, and elevated above the ground by eight feet (2.5 meters). The installation allows the right amounts of light and shade to filter through to provide sufficient photosynthesis for vegetation to grow and therefore enable simultaneous power generation and agricultural production.
As of August 2022, Ninh Van Greens generated more than 229.127 kWh of electricity and supplied 17 percent of the resort's energy supply. As a result of the secondary agriculture use, a total of 31 crops have been grown, providing 1,278 pounds (580 kilograms) of vegetables to feed guests and hosts. Ninh Van Greens will also house 15 different varieties of fruit trees, including bananas, jackfruits, mangos, and pomegranates, covering 21,527 square feet (2,000 square meters) of the hill and producing 200 pounds (90 kilograms) of leaves and fruits for food displays.
Visit the Alchemy Bar for a sensory experience
Solar FreshCuts helps the Alchemy Bar shine brighter too. With views to the bay, the Alchemy Bar uses the organic ingredients picked from the solar garden to create homemade spa and beauty products. The healing properties of a variety of herbs, fruits, and spices are explained by skilled therapists in interactive and eco-friendly workshops welcoming groups of up to 15 guests. Together they can develop personal and very individual blends for body scrubs, natural hair shampoo, or hand sanitizer.
Eat With Six Senses: A complete journey from farm to table
Following the Eat With Six Senses philosophy; food is not merely nourishment but an experiential adventure. Guests are invited to reserve a table and discover how Six Senses Ninh Van Bay delivers a plant-based fine dining experience right next to the solar farm.
The Farmhouse destination dining space enjoys breathtaking scenery in front of Alchemy Bar and can host 20 guests at a time. It brings natural ingredients, local and sustainable farming, and 'less-is-more' cooking practices to the table to show the whole journey of a plant from the seeding stage to when it is presented on a dish for diners.
"It is always deeply satisfying and rewarding when picking your own vegetables," said General Manager Benjamin Kreuz. "We invite guests to reconnect with nature and our planet with a walking tour of the eco-friendly farm led by the culinary team. They can learn about nutrients and the methods used to raise vegetables and fruits, then enjoy a mouth-watering 'farm-to-table' meal at The Farmhouse. Fresh ingredients are directly harvested at the Solar FreshCuts garden. To get the most out of every vegetable, the culinary team prepares food from each one of their stalks, leaves, stems, and skins. Serving one-of-a-kind combinations of these ingredients provides unique textures and flavors to each dish."
(Photo: Six Senses)
Article source : https://urlz.fr/hfti