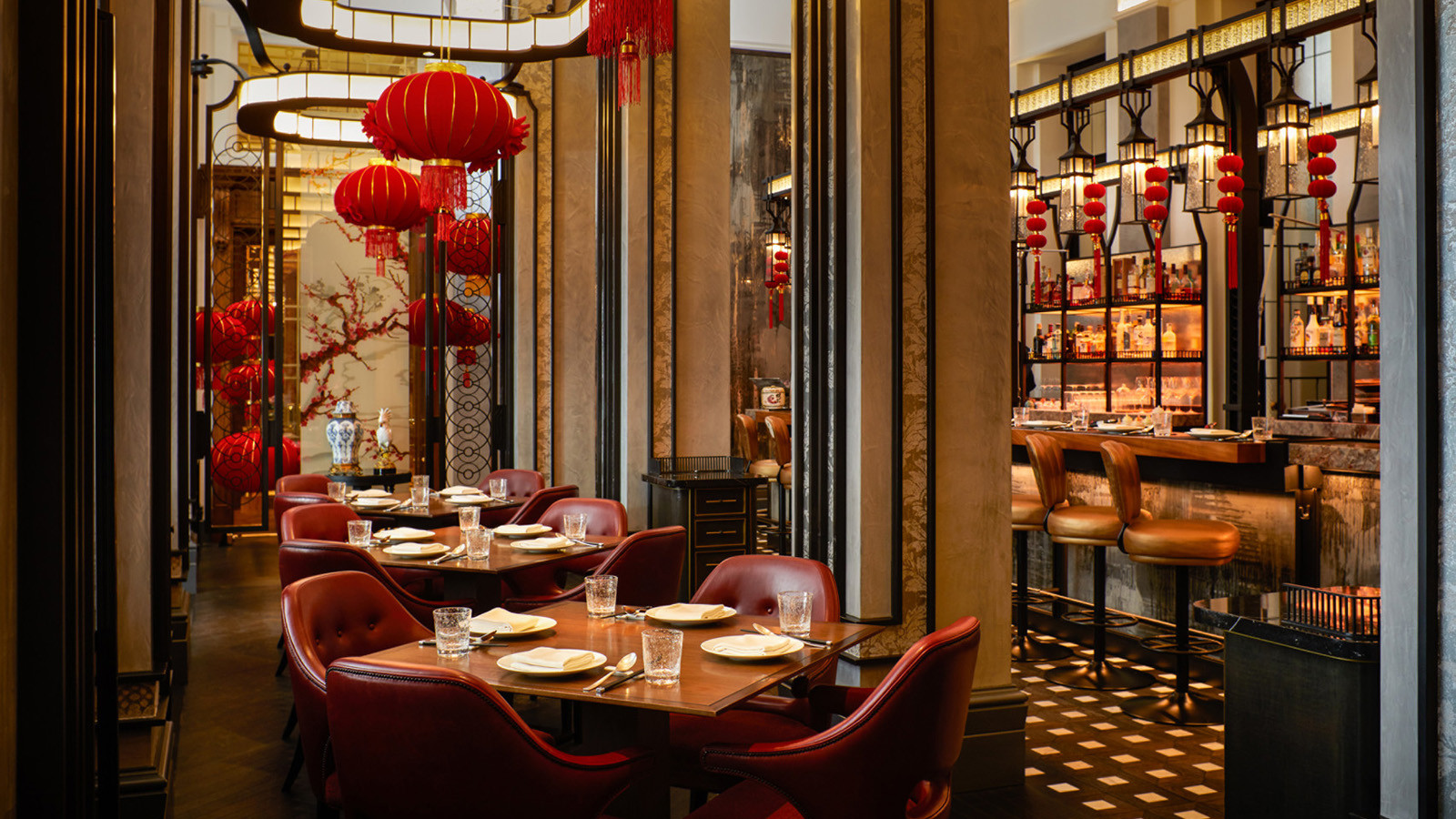 On January 31, 2022, Mei Ume will welcome the Year of the Tiger with specially crafted tasting and a la carte menus from Head Chef Tony Truong. Available until February 11, 2022, the menu will showcase traditional and auspicious dishes eaten at the reunion dinner on Chinese New Year, alongside intricate festive decor.
Reminiscent of the colourful streets of Beijing and Shanghai during the annual festival, upon arrival diners will be greeted by a sea of red origami hanging lanterns made by paper florist Karen Hsu from Pom Pom Factory, snaking their way through the restaurant and guiding them to their tables.
The tasting menu will start with lo hei, a Teochew-style raw fish salad of salmon, tuna, seabass and yellowtail on a bed of dressed crispy daikon radish, pickled spring onions, seaweed and ginger. This tangy dish - named the Prosperity Toss Salad - is traditionally eaten while standing and tossed with chopsticks, with the higher the toss indicating the better luck that person will have in the New Year. Mei Ume's signature Peking duck will bring theatre from kitchen to table, with the duck hand carved tableside, followed by stir fried lobster with ginger and spring onion, and poached chicken and shiitake mushroom soup.
Dishes of XO sauteed Dover sole and soy marinated chicken will take centre stage for the feast, served with wok-fried sticky rice and braised lettuce and shiitake mushrooms. Those opting for the a la carte menu will also be able to tuck into dishes of hot stone wagyu beef, honey glazed barbecued pork and braised crab roe and crab meat.
To finish, diners will enjoy sweet red bean soup, traditionally eaten during life celebrations in China as the colour red symbolises good luck and happiness, served with sticky sesame dumplings alongside a plate of Chinese New Year rice cakes.
Mei Ume's extensive wine and sake list will be on offer, alongside a speciality festive cocktail, the Mikan Fortune, a refreshing and well balanced vodka-based cocktail, topped with Rinomato, mandarin extract, aged umeshu liqueur and mandarin soda.
For guests looking to celebrate the occasion with friends and family, Mei Ume's private dining room will offer the perfect spot. Separated from the main restaurant by discreet sliding bamboo screens, up to 12 diners can be seated around one large circular table, offering the ultimate shared feasting experience.
"Chinese New Year symbolises reunion with loved ones and is all about getting together to celebrate. Due to the lockdown last year, those celebrating in London were unable to, and so for us it is more important than ever to make sure we celebrate the Year of the Tiger in true traditional style, with an auspicious reunion dinner for guests to wish for good health and prosperity for the upcoming year at Mei Ume," says Head Chef Tony Truong.
"Chinese New Year is for good times and even better food and drinks, so to ring in the Year of the Tiger, we're pleased to bring a range of vibrant and flavourful Chinese cocktails to Mei Ume, as well as some baijiu for those looking for a more traditional tipple," says Mixologist Ayoub Radi.
The Chinese New Year tasting menu will be available at Mei Ume at Four Seasons Hotel London at Ten Trinity Square from January 31 to February 11, 2022.
Article source : http://urlr.me/v27Ry