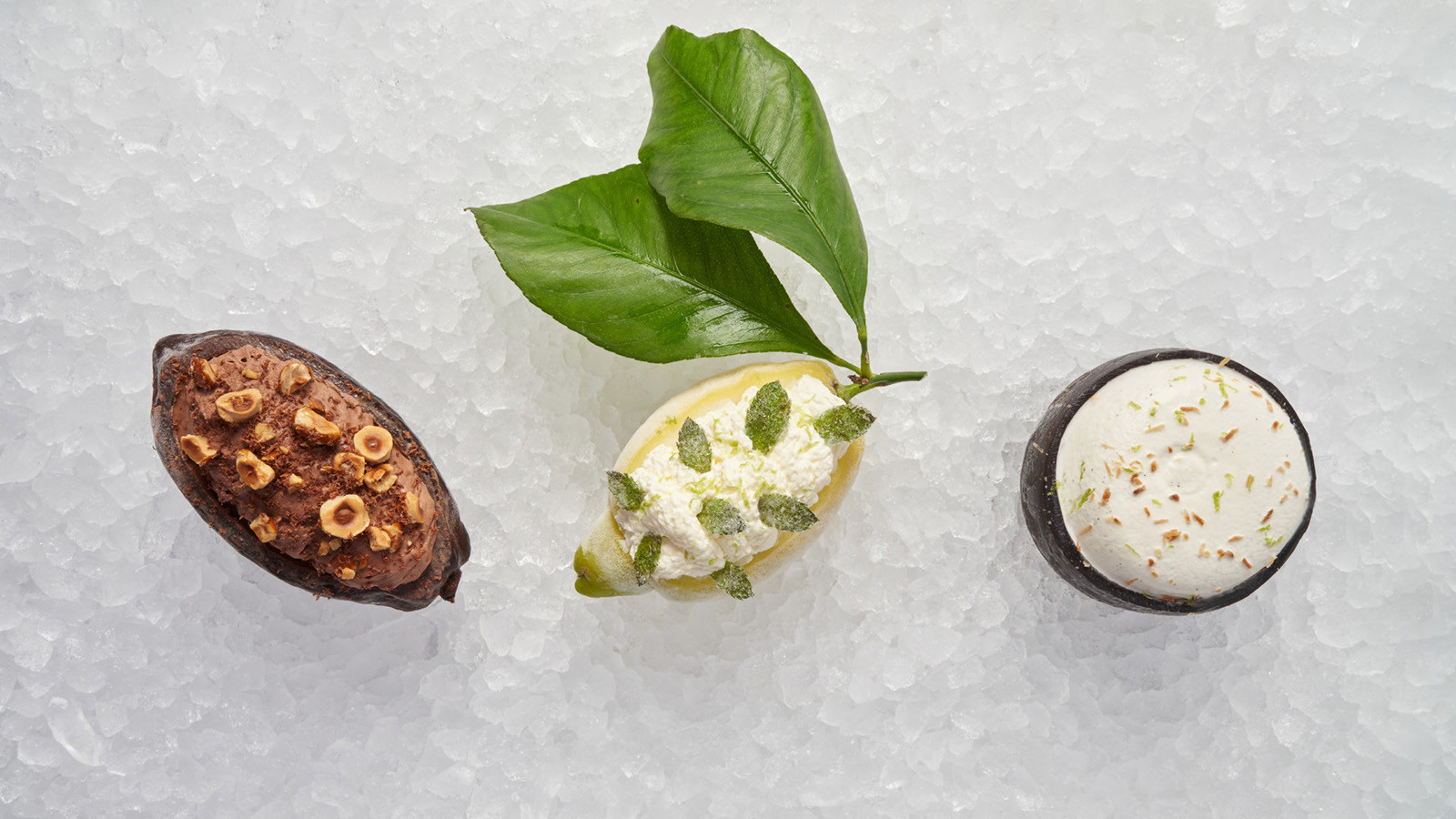 Award-winning Pastry Chef Florent Margaillan of Grand-Hôtel du Cap-Ferrat, A Four Seasons Hotel, is delighted to present a selection of delectable frosted fruits prepared using seasonal ingredients. Florent is charged with creating new and exciting desserts for the Hotel's three restaurants, including Michelin-starred Le Cap.
Stemming from Florent's imagination and skill, the newly launched frosted fruits combine interesting textures and ingredients to create innovative taste sensations and rich flavours. Sure to wow guests, these veritable works of edible art are exquisitely sculpted using fresh ingredients that follow the seasons.
"For many in France, frosted lemons and oranges conjure up fond childhood memories. I decided to recreate one of our nation's favourite summer desserts, with imaginative flavours featuring more complex culinary tones and a gourmet structure," explains Florent.
Bursting with colour and flavour, Florent's frosted fruits are playful, refreshing, and delicately balanced. These seemingly simple desserts are meticulously crafted and deceptively complex in their preparation, the result of great attention and care. They are composed of creamy homemade sorbet or ice cream sprinkled with a crunchy coating and a layer of emulsion, and topped with jelly or fresh seasonal fruits that add a fresh and zesty edge.
Making the most of seasonal produce, these multi-layered delights use fruits that have been carefully selected from throughout the country. Zesty lemons are from the south of France, juicy clementines are from Corsica, while cacao beans are supplied by renowned French chocolate manufacturer Valrhona, which has been crafting fine artisanal chocolates since the early 20th century.
The Chef's new artfully balanced desserts are served on the terrace of La Véranda under the shade of Aleppo pine trees, making for delightfully invigorating treats that help cool off in the summer heat. To capture the shifting seasons, the Chef changes flavours every few months. Five flavours are available during the warmer months of the year, with a reduced selection featuring on the menu in spring and autumn.
Among the Chef's delectable signature creations are:
Frosted cacao beans - A decadent choice for chocolate lovers, these delectable desserts feature a mouth-watering blend of chocolate and hazelnut ice cream, crispy pralines, caramelized hazelnuts, hazelnut crumble and a creamy chocolate emulsion that combine to create a veritable indulgent dessert that is hard to resist.
Frosted lemons - Packed with freshness and with a delicate edge, the Chef's frosted lemons make for ideal summer desserts.
A hollowed-out lemon is stuffed with lemon sorbet, coated with lime jelly, lemon marmalade, lemon crunch, and lemon and mint caramel. The fruit is topped with lemon emulsion and a sprinkle of crystallised mint leaves that beautifully balance with the tangy fresh citrus notes of the lemons.
Upon request, Florent can surprise guests with a number of bespoke creations, including frosted mandarin with yuzu, and frosted passion fruit and raspberry.
This autumn, the Chef will add a range of invigorating flavours to his frozen fruits selection, including frosted grapefruit with lychee, and frosted clementine with cream cheese.
Article source : https://frama.link/KPFFG_j2