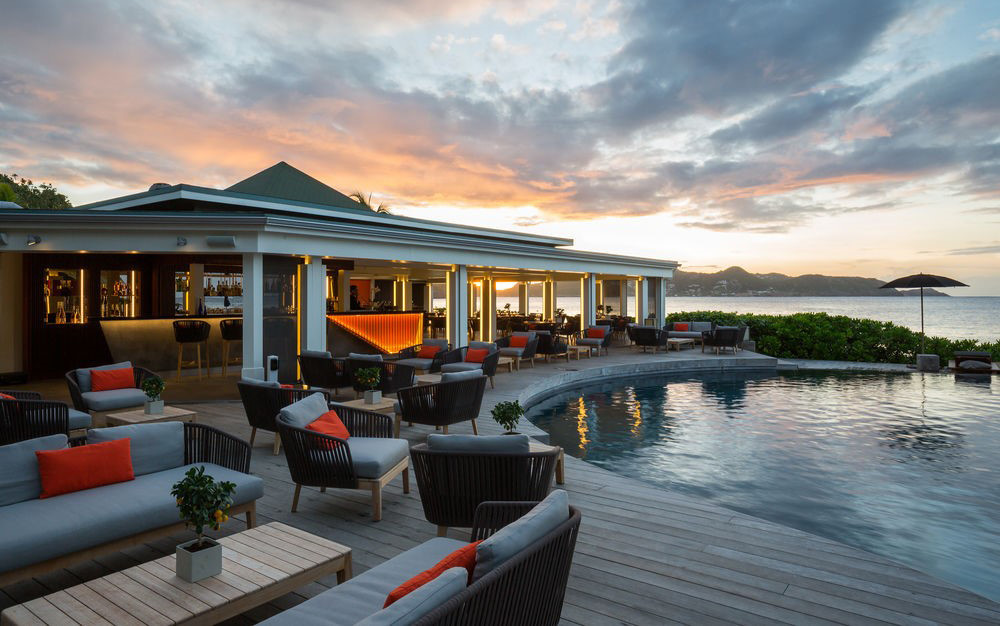 Just in time for the Caribbean high season, The Christopher will open its three new four-bedroom villas in December 2019. With the addition of these spacious retreats, the 42-room hotel concludes a tiered renovation following the hurricanes of 2017, which included the addition of the new Christo restaurant and a Sisley Spa.
The Design
French designer Olivia Putman created the spaces to integrate a modern aesthetic seamlessly with nature. The villas are completely open to the sea, evoking feelings of ease and relaxation. Taking inspiration from the bow of a ship, Putman used a mix of natural materials including bamboo, sandstone, and volcanic stone, accented with pops of the hotel's signature orange. Interior lighting was strategically configured to maximize the exterior light and its ever-changing nature throughout the day. Each villa will have four bedrooms and a private pool, blending the privacy of a personal rental with the comforts of a hotel.
The Hotel
The Christopher is an under-the-radar gem on St. Barth with a strong base of repeat clients. With its location on Pointe Milou – among some of the poshest villas on the island and minutes from hopping Le Ti St. Barth night club – it has a prime westward view towards the bay of St. Jean, making it the best place to catch the sunset. Its Christo restaurant, new as of 2018, focuses on organic meat and vegetables and its Mango Beach Club offers casual poolside fare. The Sisley Spa treatment rooms look out over the water and have a natural soundtrack of lapping waves.
Unlike other islands, visitors to St. Barth don't stay put at their hotel or resort. Instead, they visit the beautiful area beaches, go into the town of Gustavia for a gourmet meal or some shopping, or stop at bakeries for freshly made croissants. (St. Barth is part of France, after all!)
What else is new at The Christopher?
The Sixth Annual St. Barth Gourmet Festival kicks off the season November 6-10. The Christopher is hosting the festival's patron chef, Arnaud Faye, Meilleur Ouvrier de France (MOF) and two-star chef at Château de la Chèvre d'Or in Eze. He will be joined by seven top French chefs, each working at a restaurant on the island during the festival and creating special multi-course menus.
November 20-24 is the St, Barth Cata-Cup, a catamaran race that circumvents the island. The Christopher is the perfect spot to sip a cocktail and watch all the catamarans sail by.
During festive season, St. Barth becomes the place to see and be seen – celebs throw parties on yachts and clubs are packed to all hours. The Christopher is the ideal spot to sneak away from the madness and relax – maybe before joining in again the next night!
Article source : https://frama.link/9mqzqVVL