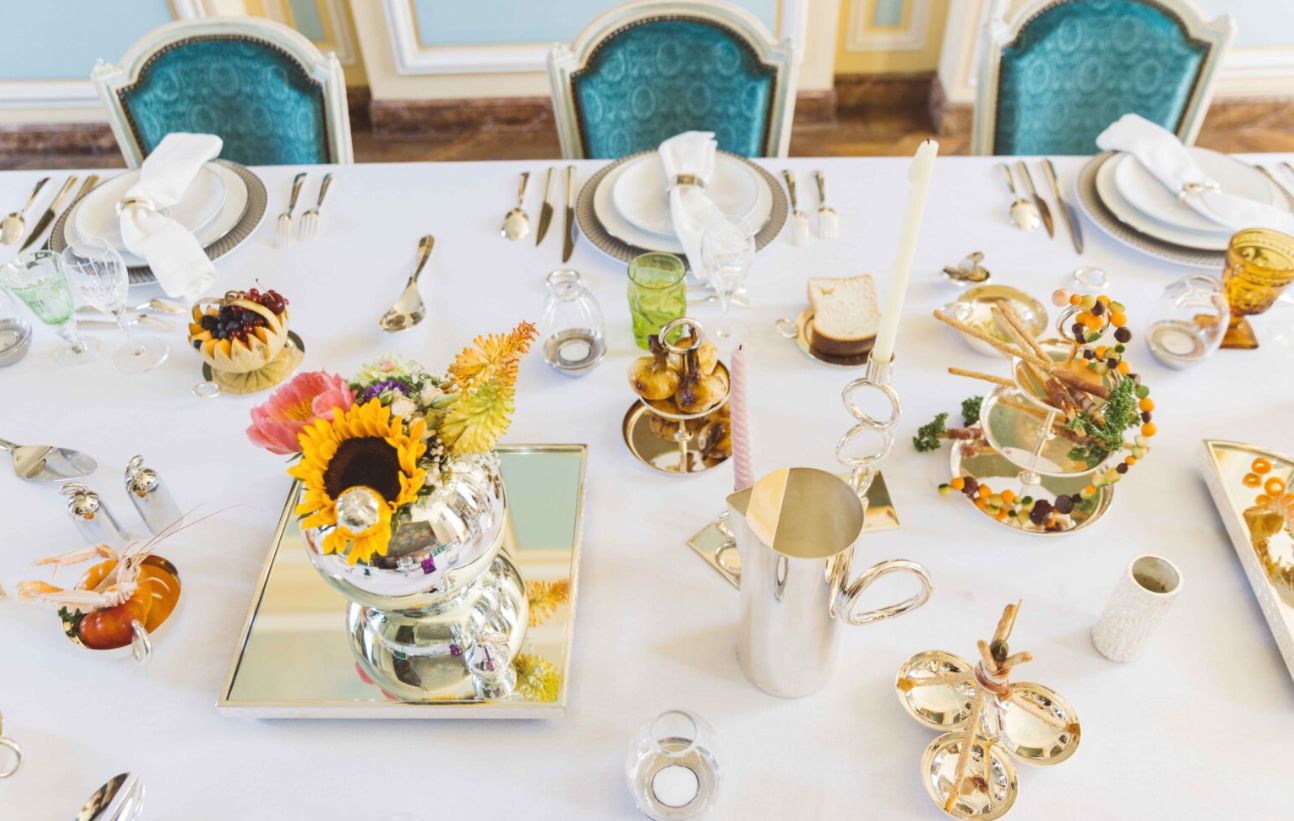 For nearly two hundred years, Christofle has been creating exceptional table art, refined jewellery, and home accessories quintessentially Parisian in their elegance and know-how.
Since 1830, Christofle has excelled as a manufacturer and retailer of high-end tableware, jewellery and home accessories. Founded in Paris by Charles Christofle, the company has produced fine silverware for almost two centuries, and its carefully crafted goods are highly coveted by collectors and aficionados across the globe.
Known for creating iconic and extravagant table settings that have graced French palaces and mansions, Christofle is far more than a 200-year Maison – it's an emblem of French luxury and refined living or Art de Vivre. The brand's exceptional historical flamboyance and all the epochs and styles it explored have made Christofle the symbol of French silversmithing. This craft not only celebrates the arts of the table in all their forms but makes table setting an Art form with a capital "A".
Highly receptive to artistic influences from all over the world and ever the leading pioneer of innovation in the field of decorative arts, Christofle can boast of collaborations with some of the greatest artists of their day: Charles Rossigneux, Alfons Mucha, Émile-Auguste Reiber, Paul Follot, Luc Lanel, Christian Fjerdingstad, Gio Ponti, Man Ray, Jean Cocteau, Lino Sabbatini, Tapio Wirkkala, Andrée Putman, Martin Szekely, Ora-Ito, to name but a few.
Whether designed by the above artists or the Maison's creative studio, Christofle silverware is created by hand in the brand's workshops, from initial mould to final sculpting. By using traditional spinning, embossing, carving, and engraving methods, the resulting silverware immortalises elegance and excellence in a way that only comes from skilled craftsmanship. It is this irreplaceable expertise and knowledge that forms the living heritage of Christofle.
Bringing Art to the table through its past and present creations, Christofle silverware adapts seamlessly to any time or style.
For 2022, Christofle has reinvented its identity, signature and collections in light of its monumental bicentenary celebrations in 2030. Assisted by the Art Recherche Industrie agency and its Artistic Director Ramdane Touhami, Christofle sees this remodelling as an opportunity to firmly ground itself in its history to better imagine the future.
Inspired by its long-established, luxurious and celebrated history, Christofle has also created brand new collections to help carry its unparalleled legacy forward. Infini Christofle and Vertigo are a bold collaboration between the new line of Christofle flatware and one of the brand's most iconic and best-selling collections of the last 20 years.
The Infini Christofle and Vertigo collections blur the lines between nostalgic and contemporary as they revisit table practises in a more refined and reduced manner. The aesthetic is both decorative and functional, making them an elegant accompaniment to any modern table. In the tradition of the visionary designers who have worked with Maison Christofle, Andrée Putman created numerous pieces within the collection Vertigo. Infini Christofle collection revisits table practices, thanks to a refined design and a reduced number of pieces.
With entirely redefined proportions, each piece within the Infini Christofle collection now has its own personality intended to set tables of endless pleasures.
Breaking free from codes but always drawn to a love for detail, the arched silhouettes of spoons and forks, their generous curves fit into the hand and portend the flavour of a meal.
The new collections aim to continue cultivating happiness and beauty from the Art of Living: making everyday events such as decorating the house, setting the table or cooking a meal a unique and memorable moment. True to their ethos, Maison Christofle rethinks the Art of the table in Art on the table.
Read more on our website with the interview of Céline Jaunard, Christofle International Hospitality Manager, here.
Article source : https://urlz.fr/jmXi