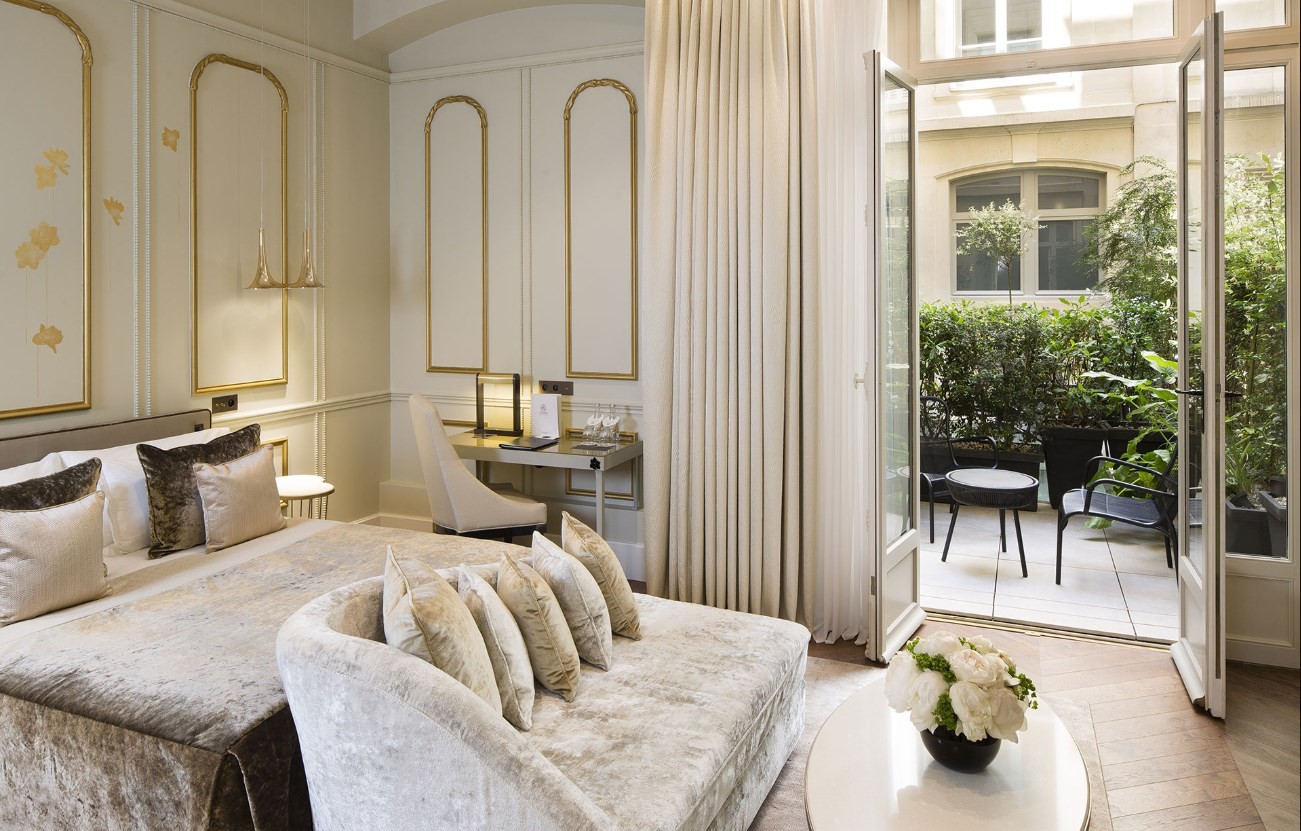 Photo credit: Le Narcisse Blanc Hôtel & Spa
Le Narcisse Blanc Hôtel et Spa is the perfect location to discover a confidential and stylish Paris, respectful of everyone's pace.
I bet my bottom money that this hotel gathers all the criteria of a successful experience.
Just upon my entrance in this calm and hidden space, away from all, I fall under the spell of Le Narcisse Blanc, an atypical place that gives me the feeling to have escaped the teeming frenzy of the outside world…
The Rodin museum, Le Bon Marché and the banks of the Seine are all in the vicinity; however, the venue knows how to preserve the visitor from the Parisian rhythm.
In between classicism, modernity, luxury and delight, the hotel marvellously conveys the feeling of a small eternal, timeless city cocoon.
A superb SPA located in the basement confirms a privileged feeling.
Just like a well-kept treasure, the SPA's stress-relieving environment immediately cherishes me and I feel ready to enjoy the 39 ft long swimming pool, wrapped in a perfectly adapted temperature for relaxation. Everything is simply perfect.
The rooms and suites are equally pleasant and calm, and reflect the whole establishment's atmosphere: you feel welcome, as you would be in a large house solely dedicated to its hosts' hospitality and wellness. Soft luminosity, contemporary and glamorous furniture, quality bedlinen, marble bathroom... what more is there to ask for than take the time to enjoy it all?
The Cléo is the place to be for dinner.
The hotel restaurant, where breakfast is also served, remains in line with privacy. Slightly isolated and apart from the street side, it neighbours a small interior courtyard that welcomes the guests. On that very evening, I enjoy a delicious salad of perfectly roasted squids and a pumpkin cream soup with seeds and dried ricotta. The meal continues with home-cooked ravioli with butternut, sage butter and amaretti sparkles... a real delight, just like the bar fillet with black sesame.
I feel conquered, rested, relished and grateful at the same time for the discovery of such a place.
Breakfast respects each guest's intimacy. The buffet is generous and overflows with pastries, homemade cakes, cereal, juices, fruit, cheese, yogurts, charcuterie and other delicacies, which thrill me at daybreak.
After that, I'm up for a new day.
Thank you, Le Narcisse, for this comfortable stay, which made me feel like I was taken care of by a friend from start to finish, with an attention to detail and service proximity.

Le Narcisse Blanc
19, Boulevard de la Tour-Maubourg
75007 Paris - FRANCE
https://www.lenarcisseblanc.com/
Photos: Marion Flipo
Translated by Tania Ricci