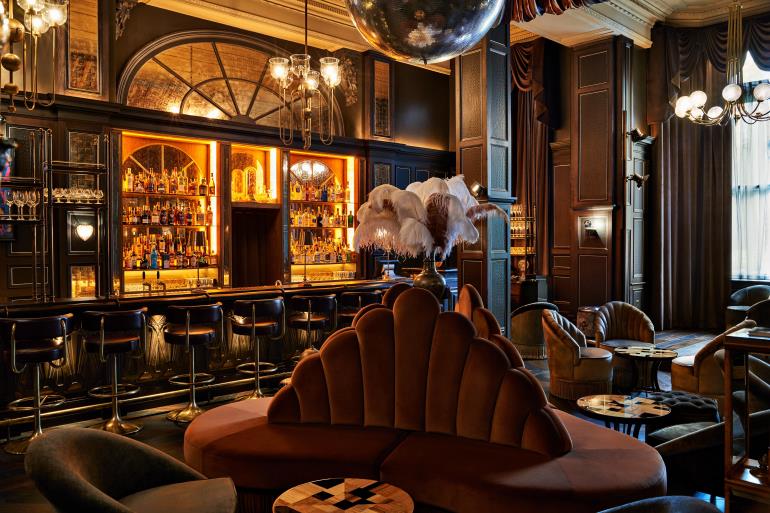 Crédit photo : Kimpton Hotels & Restaurants
IHG® will soon debut its boutique luxury brand Kimpton Hotels & Restaurants® in the UK with the opening of Kimpton Fitzroy London late October 2018.

Kimpton Fitzroy London, the first UK hotel for the brand, will open in London's Bloomsbury neighbourhood in an iconic heritage building which originally opened in Russell Square in 1898. The hotel will be named after the original architect of the hotel, Charles Fitzroy Doll; a titan of British architecture in the Victorian and Edwardian eras who specialised in designing hotels. Today, the Kimpton Fitzroy London stands for vision and craft, history and modernity, and luxury and timelessness. The hotel also further honours the name with Fitz's bar, the hotel's glamorous cocktail bar.

Earlier this year IHG and Covivio entered an agreement to rebrand and operate 12 hotels (and one pipeline hotel) currently operating under the Principal and De Vere brands. The Principal London is the first of these hotels to be re-branded as Kimpton Fitzroy London. Next year will see a continuation of the brand's momentum with additional Kimpton hotel openings in highly desirable cities such as Edinburgh, Glasgow and Manchester.

Kimpton first opened in Europe last year with the opening of Kimpton De Witt in Amsterdam, and since then the brand has rapidly increased its global footprint following signings in Tokyo and Paris, both set to open in 2020, and Kimpton Frankfurt, due to open in 2023. In the next few months Kimpton Da An Hotel in Taipei will also open its doors.

Founded in 1981 by Bill Kimpton, Kimpton Hotels & Restaurants pioneered the concept of unique, distinctive, design-forward hotels in the United States. The boutique luxury brand was acquired by IHG in 2015 and currently operates 67 hotels and 82 restaurants, bars and lounges in the U.S., Caribbean and Europe.
For further information please contact:
Lauren Moment-Walker
lauren.momentwalker@ihg.com
+44 (0) 1895 512 663
About IHG®
IHG ® (InterContinental Hotels Group) [LON:IHG, NYSE:IHG (ADRs)] is a global organisation with a broad portfolio of hotel brands, including Regent Hotels & Resorts ® Hotels & Resorts ,InterContinental ® Hotels & Resorts , Kimpton ® Hotels & Restaurants , Hotel Indigo ® , EVEN ®Hotels , HUALUXE ® Hotels and Resorts , Crowne Plaza ® Hotels & Resorts , voco™ Hotels ®Hotels & Resorts , Holiday Inn ® , Holiday Inn Express ® , Holiday Inn Club Vacations ® ,Holiday Inn Resort ® , avid™ hotels , Staybridge Suites ® and Candlewood Suites ® .
IHG franchises, leases, manages or owns more than 5,400 hotels and 810,000 guest rooms in almost 100 countries, with nearly 1,800 hotels in its development pipeline. IHG also manages IHG ® Rewards Club , our global loyalty programme, which has more than 100 million enrolled members.
InterContinental Hotels Group PLC is the Group's holding company and is incorporated in Great Britain and registered in England and Wales. More than 375,000 people work across IHG's hotels and corporate offices globally.
Visit www.ihg.com for hotel information and reservations and www.ihgrewardsclub.com for more on IHG Rewards Club. For our latest news, visit: www.ihgplc.com/media and follow us on social media at: www.twitter.com/ihg , www.facebook.com/ihg and www.youtube.com/ihgplc .
Source de l'article : https://www.ihgplc.com/en/news-and-media/news-releases/2018/ihg-to-open-first-kimpton-in-the-uk-next-month