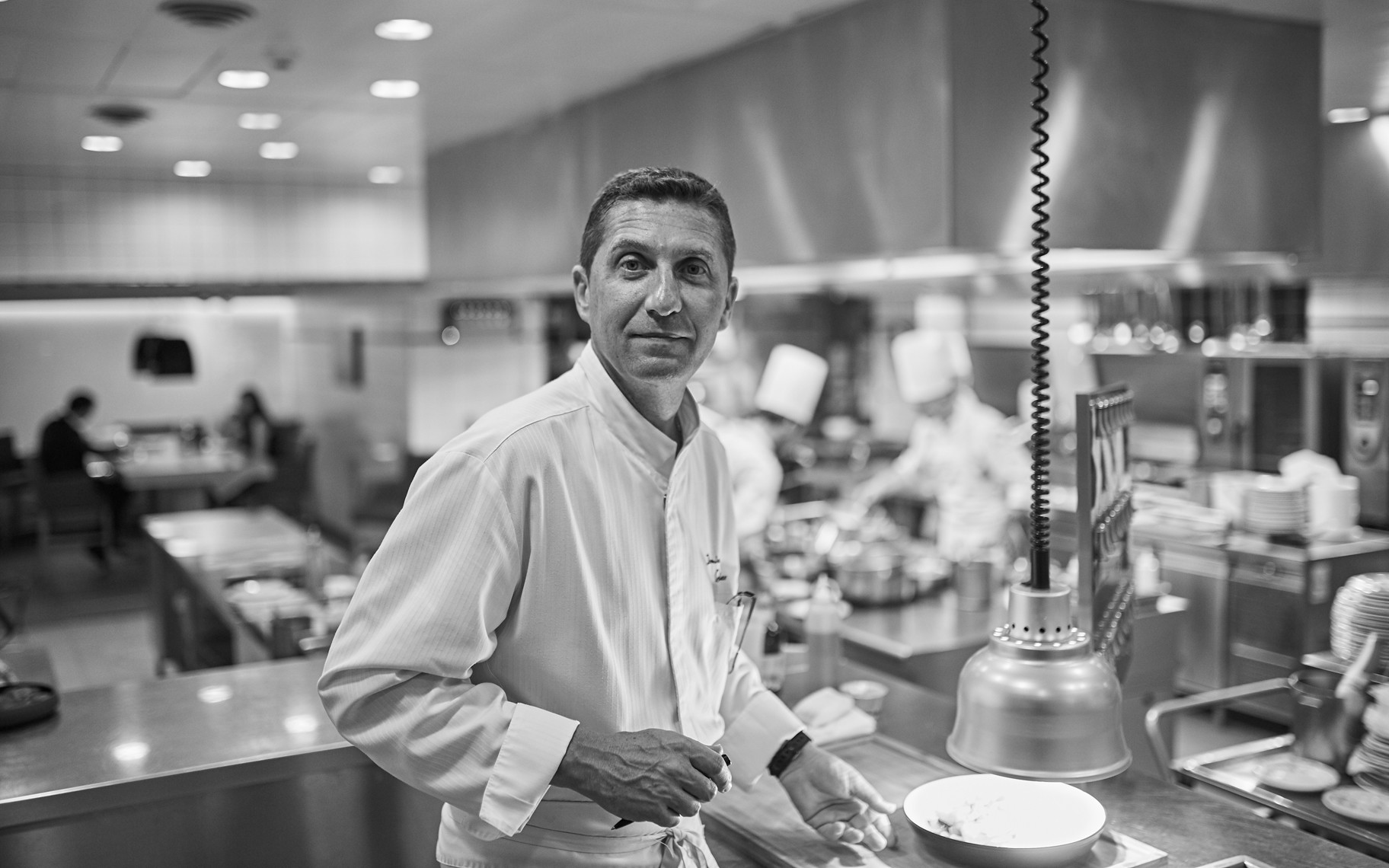 Chef Dominique Gauthier has been active in the kitchens of hotel Beau-Rivage Geneva since 1992. Promoted "Chef of the year 2008" by Gault & Millau Switzerland, he received the highly coveted rating of 18/20 the following year and was rewarded with one star in the Michelin Guide! Over the years, the chef of the Chat Botté brought to this historical refined and incomparably elegant address a very personal, coloured and heartfelt cuisine, rooted in French gastronomy, which has the ability to subtly surprise his hosts' palates through some unexpected flavour sublimating the dish. Great traveller, with a passion for Eastern flavours, he invited us to discover the mythical Geneva venue.
Vendom.jobs – How do you succeed in always fulfilling and surprising your customers?
Dominique Gauthier – It is a fact that when I became executive chef of the Chat Botté, I already had loyal customers, who keep evolving, of course. Cooking also functions on a trending principle: one has to follow trends.
V.J. – How is this continuity important to you?
D. G. – When I started as a line cook, I was only 25 years old. From there, I evolved in the company. I was able to learn various management fields, in particular restaurant management. At the time, we did not have any rating in the Gault & Millau guide, and we did not have a Michelin star. Therefore, it became a very fulfilling challenge for me. Nowadays, very few chefs have the chance to develop a similar strong and lasting bond with such a prestigious venue.
V.J. – Seasonality, local food systems, sustainability,… the trend is towards consumer empowerment. These are values you have been applying for a long time. Did this awakening of the general public change anything in your working approach? If so, how?
D. G. – Indeed, I have been practising these values for a dozen years. These last years there has been a positive change: the media started raising awareness in the general public. For us cooks, it's nothing new. Working with quality products lies at the heart of our profession. What is important is to set an example.
I was mentioning cooking trends. Nowadays the trend is vegetarian cuisine, "organic" and local food… Customers are becoming more demanding towards products, which is really rewarding for us. Yet, we all are in love with exceptional products and for us, this new attention paid by our customers towards quality and sustainability is a real opportunity to communicate even more the values of our discipline.
V.J. – For renowned chefs, this is not really a new way of positioning their work. How do you imagine the next step?
D. G. – True, it is not really new. We are indeed getting back to practices that were in place 30 years ago. Customers really appreciate the visual aspect, for example. We are starting again to work products, and apply practices like cutting, directly in front of the guests.
I focus on seasonality and I try to imagine what dishes I am going serve during the next season. At the moment, we are working on the next menu, which will feature all citrus–inspired dishes.
V.J. – What is your most recent favourite product/producer association?
D. G. – Unquestionably, Niels Rodin's products in Borex (Switzerland): he cultivates more than 150 varieties of citrus fruits!
V.J. – What is the most beautiful compliment you were paid as a chef?
D. G. – I have to admit it has always been the clients' feedback. The moment I enter a dining room and see people smiling. Some guests tell me they had the best meal of their lives! What you experience in that moment is a strong feeling of achievement. Our profession is also teamwork: working alone is inconceivable. Even if you imagine and create dishes, if you have nobody help you develop and carry them, you simply cannot share your work.
V.J. – You often mention your passion for Asian flavours that you brought back from your trips. Are there other territories you are curious about and whose gastronomy you would like to study/adapt?
D. G. – My two preferred gastronomies in Asia are Thai and Japanese cuisine. But I am also attracted by other cuisines, of course! French gastronomy, first of all, because it belongs, one may say, to my DNA. Mediterranean cuisine is also of huge interest to me, as well as the Italian culinary heritage, which is still rather limited to me due to its richness and variety.
V.J. – What is the first dish you created and why did you make that choice?
D. G. – When I was an apprentice, I remade one of my chef's dishes: hare in cream sauce. My father and my brother are hunters, so I cooked this dish for my family. They were all very astonished by the result. Indeed, the hare has to be served rare, almost in carpaccio. Then, always true to our hunting tradition, I cooked a woodcock. The recipe is called roasted woodcock, as the meat has to be cooked for a very long time and mixed with offal, then savoured on a slice of bread.
V.J. – What is, in your view, the dish that perfectly incarnates sharing and conviviality with friends or family?
D. G. – During the week, we do not really have the opportunity to be together as a family, so we favour Sundays and cook a traditional roasted poultry served with mashed potatoes or with beef or chicken curry. My family visited Asia and my children also enjoy Thai cuisine very much.
Le Chat Botté*, Hotel Beau-Rivage Geneva
13 Quai du Mont-Blanc
1201 Geneva - Switzerland
+41 22 716 69 20
(Photo credit: Diego Lapasini/Beau-Rivage Geneva)