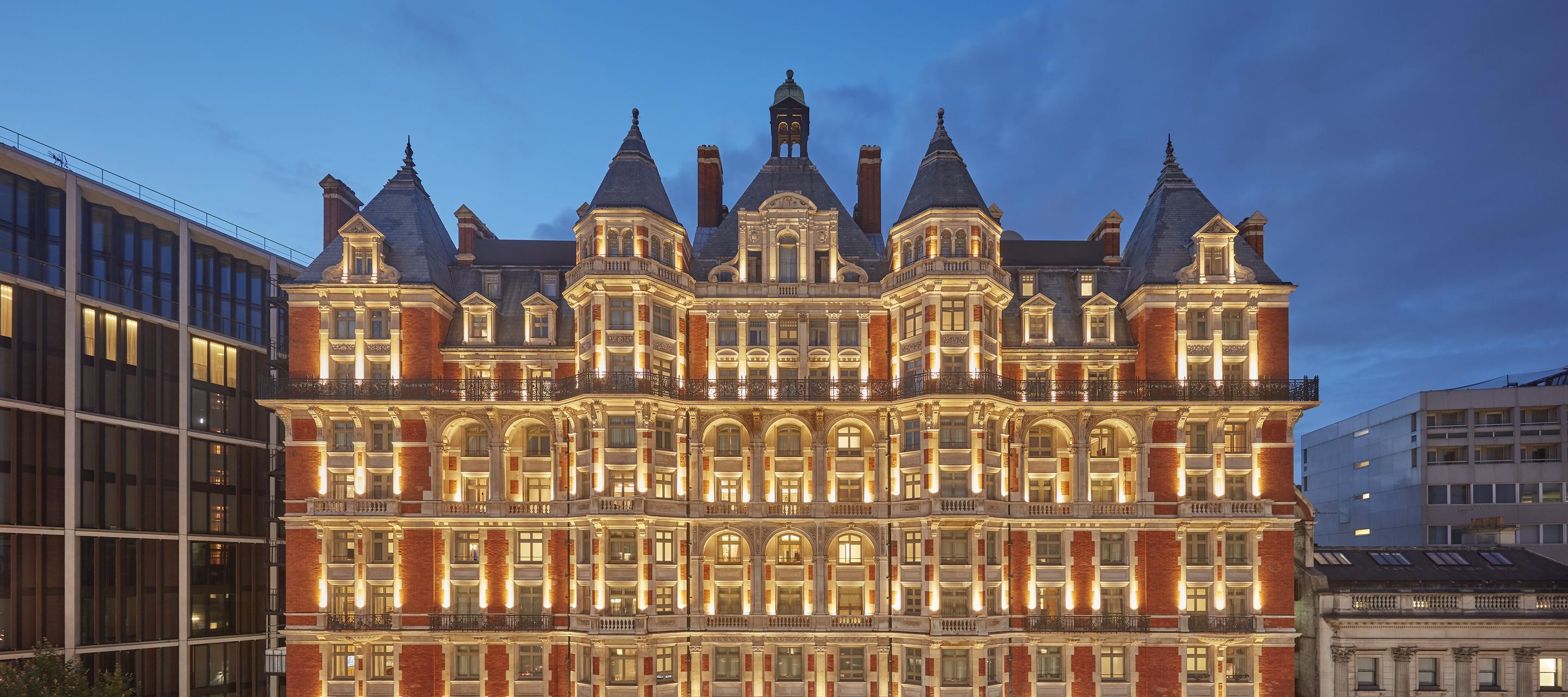 Crédit photo : Mandarin Oriental London
Some of the world's most iconic hotels will reopen in 2019 after undergoing extensive renovation works to bring in a fresh look and smarter technologies as part of an effort to keep up with the ever-changing tastes of discerning global travelers.
Replacing worn out carpet, wallpaper and furniture is only one way to breathe life into tired rooms. Remaining ahead of the competition means having the latest back-end IT systems and in-room gadgets.
"While soft upgrades can offer a temporary refresh, hotels need to keep up with more comprehensive refurbishments," says Sashi Rajan, Senior Vice President, Strategic Advisory & Asset Management, JLL Hotels & Hospitality, Asia.
While these projects can be costly and time consuming, they have become increasingly critical, Rajan says.
"Such investments allow a hotel to return to where they should be in market in terms of price and position, or to command a leading position."
The works completed at these iconic hotels are expected to entice new visitors, as well as deliver an inevitable boost in profitability over the opening months. Find out which hotels are undergoing a makeover fit for 2019.
Mandarin Oriental, London
© Mandarin Oriental
For some hotels, renovation comes as a matter of necessity. Mandarin Oriental, Hyde Park, London, underwent a major refurbishment throughout 2016 and 2017 and reopened to positive press in summer 2018 only to be ravaged by fire one week later. The multi-million dollar renovation, hailed by the hotel group as "the most extensive restoration in its 115-year history" revamped the entire west wing of the 181-room hotel and introduced a new pool, spa and fitness centre. Following works to repair the fire damage, the hotel's flagship restaurant - Dinner by Heston Blumenthal - three bars and the spa reopened in early December 2018 in time for the festive season. Meanwhile, the guest rooms and suites will reopen in Spring 2019 once work is complete.
Britannia Hotel, Trondheim, Norway
© Britannia Hotel
Built in 1897, Norway's Britannia Hotel is due to enter a new phase in August 2019 when it reopens under hotel group Leading Hotels of the World (LHW) following a three-year, $150 million refurbishment. Located in the central Norwegian city of Trondheim, the hotel has welcomed politicians, royalty, international stars, and Arctic explorers during its more than 120-year history. It will become the fifth member of the LHW group in Scandinavia. Boasting six on-site restaurants and bars, handpicked furnishings and textiles, marble bathrooms and a ballroom, the 257-room property promises to meet the LHW's set of 800 quality standards.
Photo credit: Jensens via Wikimedia Commons
Okuro hotel, Tokyo
© Okuro Hotel
When Tokyo's 1960's icon, Hotel Okura, was partially demolished in 2015 ahead of renovations, it was met with public outcry and a petition to retain its old lobby. Happily, the operator agreed to restore much of the hotels original 1960s features, albeit across two new towers – Okura Prestige and Okura Heritage. Both are designed to withstand earthquakes and are due to open in early September 2019, just in time for the 2020 Olympics. The luxury hotel, which is next door to the US Embassy in Tokyo's Minato Ward, will reopen as the Okura Tokyo following the ¥110 billion ($979 million) renovation and, in addition to the 508 rooms it will house 18 stories of office space.


One Aldwych, London
© One Aldwych
Twenty years after it opened, One Aldwych in London's Covent Garden will close its doors in January 2019 for three months while its rooms and public spaces are updated. Housed in the former Morning Post newspaper building, the hotel is expected to reopen in March 2019 with all 150-rooms refreshed by British designer Robert Angell, who was behind projects including The Connaught and The Berkeley hotels. The renovation will also add four new suites to the hotel as well as upgraded, user-friendly technology throughout. The public spaces, including the lobby, the reception and the Indigo restaurant are due to be revamped by London-based Fabled Studio.


Grand Hotel Quellenhof, Switzerland
© Grand Hotel Quellenhof
One of Europe's leading health & wellbeing hotels, the Grand Hotel Quellenhof in Switzerland, will close in February 2019 for four months as it undergoes a $42 million renovation. The 106-room hotel is part of the wider Grand Resort Bad Ragaz, which includes the Grand Hotel Hof Ragaz, and is built around the local thermal waters from the nearby Tamina gorge. As well as offering guests spa and thermal bath treatments, the resort includes a medical centre for in-patient treatment and orthopedic rehabilitation, as well as the Swiss Olympic Medical Center. The work includes a new lobby and bar, refreshed rooms and new restaurant concepts and is scheduled to mark the resorts' 150th anniversary celebrations; it first opened its doors to guests in 1869.
Raffles Hotel, Singapore
© Raffles Hotel
Hotels don't come much more iconic than the 131-year-old Raffles Hotel. Managed by operator Accor, it's taking bookings beginning August 2019 following a phased renovation program that began at the start of 2017. The revitalized hotel will feature new restaurant concepts from acclaimed chefs Alain Ducasse and Anne-Sophie Pic, as well as a modernized lobby area designed to be more sociable space. In the suites, modern upgrades include soundproofed windows, improved lighting and more accessible sockets. Designers Champalimaud, the firm behind iconic hotel revamps such as the Waldorf Astoria in New York and The Dorchester in London, said: "These modern installations have to be done discreetly without losing the essence of what was there." JLL's Rajan echoes this sentiment: "It's not just a Raffles it's the Raffles. Iconic hotels like this must strike the balance to maintain their heritage and, at the same time, stay relevant."
Source de l'article : https://www.jllrealviews.com/industries/hospitality/renovating-stay-relevant-big-hotel-refurbishments-2019/