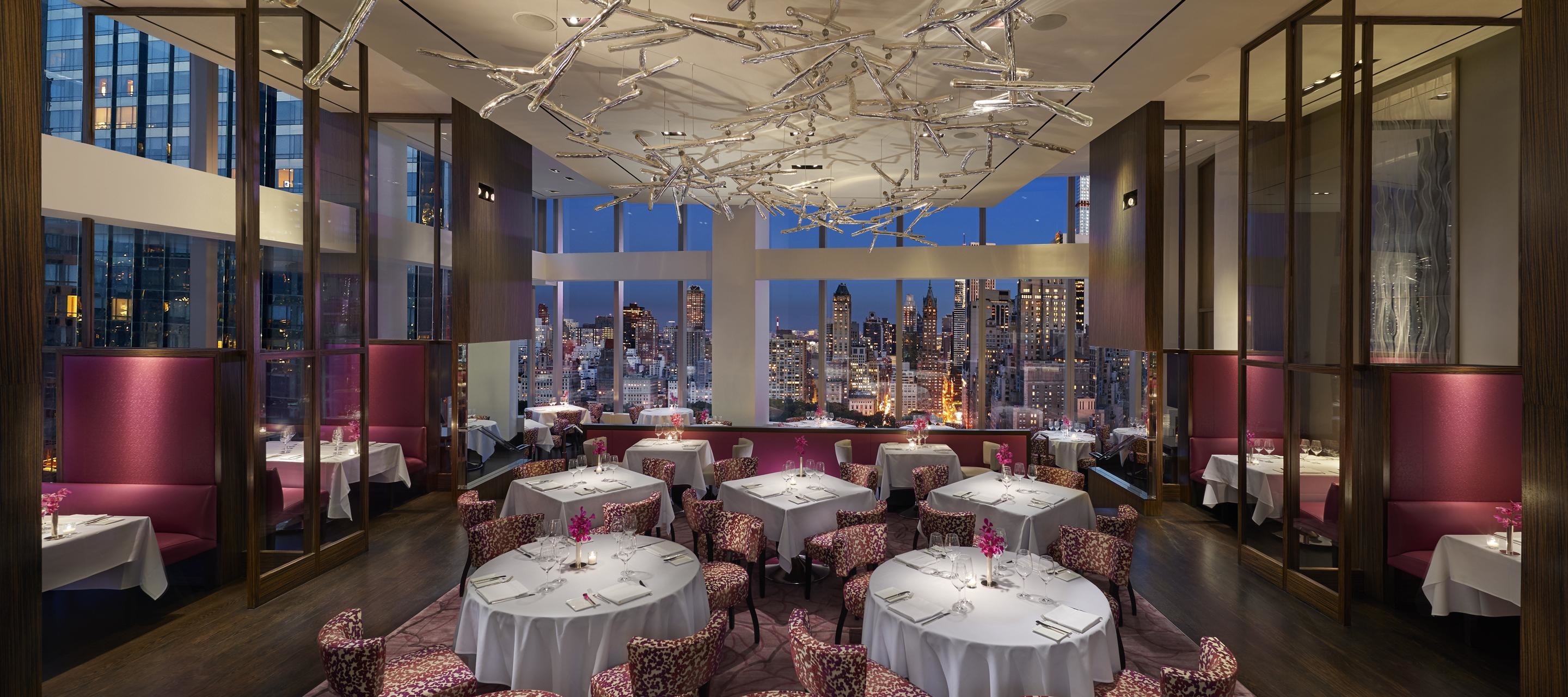 Crédit photo : Asiate, Mandarin Oriental New York
The hotel group announces an exclusive partnership with Rolls-Royce Motor Cars for an auspicious start to the Lunar New Year
Hong Kong, 1 February 2019 – Mandarin Oriental will welcome the Lunar New Year across the globe by honoring its deeply rooted Asian heritage with opulent, immersive moments. In celebration of the holiday, which officially starts on February 5, 2019, the group's U.S. properties will offer a stellar lineup of packages and happenings. Around the country guests will enjoy festivities from traditional lion dances to relaxing and rejuvenating spa offerings, all designed to start the Lunar New Year off with happiness, prosperity and good health.
Mandarin Oriental's properties in Boston, Miami and Washington, D.C. will ring in the Lunar New Year with Rolls-Royce Motor Cars, offering guests special access to the brand's first-ever SUV, the ultra-luxury Cullinan. The cars will make a special appearance at each property from February 4 to 8, and will be a fortuitous red, selected for its symbolization of good luck and happiness in the Chinese culture. A Rolls-Royce "White Glove Product Specialist" will be onsite for drives and chauffeured rides within a two-mile radius of the hotel. Guests at the Mandarin Oriental will also have the opportunity to win a week-long first-hand experience with a Rolls-Royce motor car in select U.S. luxury destinations.
In each U.S. city, Mandarin Oriental properties will offer unique Lunar New Year experiences to ring in The Year of the Pig in spectacular fashion:
An annual tradition, Mandarin Oriental, Boston offers guests a special Lunar New Year package appropriately titled the Year of the Earth Pig. Available throughout the lunar year, from February 5, 2019 to January 24, 2020, the package will include one night of luxurious accommodations, a special welcome amenity symbolizing a year of good fortune, one Oriental Qi treatment spa treatment, and breakfast for two in Bar Boulud, USD 895
The Spa will greet guests with a celebratory Tray of Togetherness (available February 5 to 19, 2019), which will feature a platter of edibles and sweets traditionally used to welcome visiting guests around the Lunar New Year. The Spa will also be highlighting a signature Oriental Qi treatment throughout the month of February 2019, which focuses on the benefits of essential oils
Food and beverage themed experiences available now through February 24 include a sumptuous Chinese New Year Afternoon Tea in the hotel Lobby Lounge adorned with festive Chinese lanterns. The tea will begin with a champagne toast followed by an aromatic presentation of five natural, loose leaf bespoke tea blends and a tiered Asian wheel adorned with an assortment of sweet and savory bites. Additionally, Bar Boulud will honor guests born in the Year of the Pig with a complimentary appetizer or dessert. On February 7, partake in a special Lunar New Year celebration with acclaimed chef Daniel Boulud and the Bar Boulud culinary team who will prepare an exclusive menu of market specials with an Asian twist
Book the Celebrate Chinese New Year package, available January 25 through February 17, and receive New Year treats including a special room upgrade, spa credit, and complimentary breakfast
Lunar New Year is not complete without experiencing the one hour and 50 minute Oriental Qi experience. This simple, effective, and authentic body massage ritual works on the energy of the meridians using the benefits of essential oils, providing the ideal ritual for the New Year
Asiate will offer a special afternoon tea menu featuring a curated selection of aromatic Chinese teas, a green tea ice cream dessert, and house-made oversized fortune cookies, available February 5 to 19
On Sunday, February 10, Asiate will feature a traditional lion dance performance to shower patrons with good luck during brunch
Available from February 5 to 19, The Aviary NYC will offer a Ruby Spritz cocktail crafted with champagne, hibiscus, black tea, raspberry and Campari and served over tea-infused ice. The inspiration for this cocktail is the story of a piglet whose overslept and almost missed his celebratory moment for Lunar New Year
Throughout the Year of the Pig, The Spa will offer guests who book a 90-minute Oriental Essence Massage a traditional Chinese red packet which includes a spa voucher for 20 additional minutes to be used towards a future treatment booking of one hour and 50 minutes
As a Lunar New Year special, La Mar, the hotel's Peruvian inspired restaurant, will offer Long Life Noodles, complemented by good luck ingredients including water chestnuts, Chinese mushrooms, pork belly stew and confit Peruvian peppers sauce.
The MO Bar + Lounge has created a special cocktail, aptly named When Pigs Fly, crafted with bacon fat-washed bourbon, honey syrup, Peychaud's Bitters and bacon garnish
YAKU by La Mar will offer a special themed 'Year of the Earth Pig' menu including a Pisco Punch and Asian fusion dishes
The hotel will host its annual traditional Lion Dance throughout the hotel beginning in the lobby at 7 p.m. on February 5
Kicking-off the Lunar New Year, a traditional celebration will begin at 5:00 p.m. on February 5 where guests will enjoy a 20-minute performance of the annual Lion Dance from local group, Tai Yim Kung Fu. A hotel tradition, the dance is a much sought-after celebration where guests and employees share in the prosperity and good luck of feeding the lion lucky red packets
Empress Lounge honors the Year of the Pig with a specialty cocktail including bacon infused gin with bacon garnish starting February 5 - January 25, 2020
Hotel guests will be gifted at turndown lucky red envelopes, containing crisp new two-dollar bills to bestow happiness and blessings for the year to come
About Rolls-Royce Motor Cars
Rolls-Royce Motor Cars is the pinnacle automaker in the world. With more than 137 retail partners worldwide, the marque delivered 4,107 Bespoke commissions in 2018. With 44 retail partners in the Americas (37 in the U.S. 4 in Canada and one each in Mexico, Brazil and Chile) the region has consistently been the largest in the world. Rolls-Royce Motor Cars Limited is a wholly-owned subsidiary of the BMW Group and is a completely separate company from Rolls-Royce plc, the manufacturer of aircraft engines and propulsion systems. Over 1800 skilled men and women are employed at the Rolls-Royce Motor Cars' head office and manufacturing plant at Goodwood, West Sussex, the only place in the world where the company's super-luxury motor cars are hand-built.
Source de l'article : https://bit.ly/2Rth40d