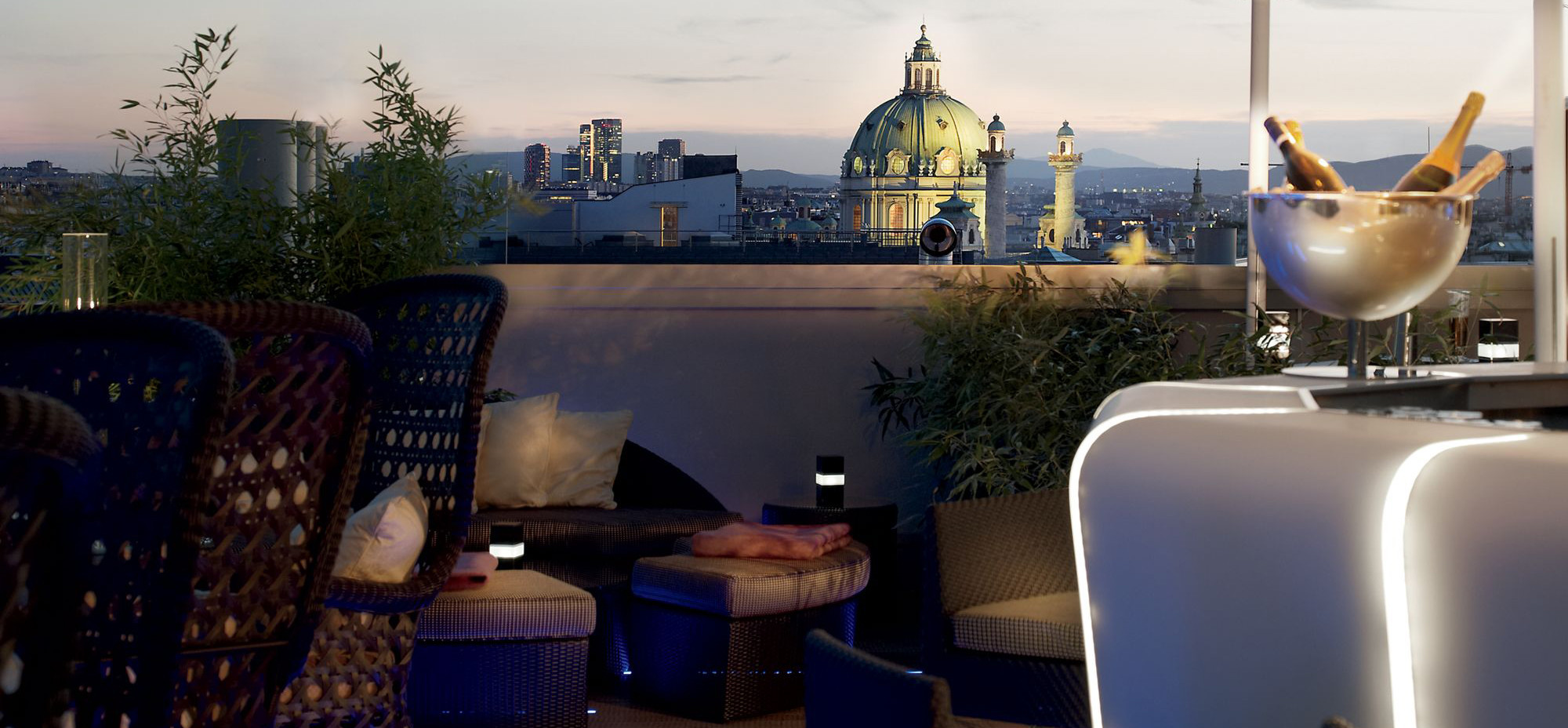 Crédit photo : Ritz-Carlton Vienna
Stay curious, the Pastamara cacao zeppelin opened in Vienna on December 3, 2018.
A new unique bar con cucina for the Ritz-Carlton, Vienna. With Pastarama Ciccio Sutlano is bringing the authentic aperitivo experience in Vienna.
Vienna just welcomed an exceptional experience in all-day dining: Pastamara, a Bar con Cucina directly accessible from the lobby of The Ritz-Carlton, Vienna, focusing on the Italian ritual of the aperitivo. The menu has been put together by Sicilian star chef Ciccio Sultano, while renowned design studio Tarruella Trenchs is responsible for the refined interior. The dishes represent a modern interpretation of Sicilian classics, with complex flavours that belie their simple presentation. Guests can enjoy a Negroni before dining – and of course only the finest Negroni will do.
Pastamara represents the natural next step for Ciccio Sultano's extraordinary cuisine. Following on from his successes with the 2-Michelin-starred restaurant Duomo, and his laid-back I Banchi, Sultano is making a statement with simple, yet polished Sicilian dishes. Not least because of his incredible network of regional producers. For Christian Zandonella, General Manager, it was only a matter of time before he brought his culinary background to bear on The Ritz-Carlton, Vienna. "I always thought the lobby had huge potential, and now with Pastamara we're opening it up to Vienna and the world. The concept of an all-day Bar con Cucina will be oneof-a-kind in Vienna." Special attention will be paid to the aperitivo, a tradition deeply anchored in Italian culture. A specially created Negroni-trolley will roll through Pastamara at aperitivo time, preparing cocktails before the diners' eyes. These are served up with a selection of savoury delicacies and small pasta plates on the house. It should be noted that Pastamara doesn't come from pasta: "Pasta amara – literally 'bitter paste' – stands for the cocoa bean, traditionally used in Sicily, whose shape resembles a Zeppelin. Back then it travelled over the Atlantic to reach our plates in the Mediterranean; now they're making the journey from Ragusa to Vienna," says Sultano, passionate advocat of the extraordinary and millenary gastronomic heritage of his home region, explaining the origins and design of his creation. A visit to Pastamara promises regional produce and innovative fare, served unpretentiously whether at the bar or your table. Pastamara ticks all the boxes for what a Bar con Cucina should be: an elegant, relaxed space that invites you to eat, to drink, to chat and to chill out while day turns into night.
Embark on a journey to Sicily, without leaving Vienna: In appearance and taste Pastamara tells a story of Sicily but in a fresh and very contemporary way. Ciccio Sultano has gone on a culinary journey, picking up the choicest ingredients and the most authentic seasoning along the way, and now he's ready to start a new chapter in his gourmet story here in Vienna: a stylish bar con cucina that reimagines classic Sicilian cuisine. Expect refined flavours presented without fuss. Alongside the food, guests can also expect fine Sicilian wines, single origin coffee, and of course a sumptuous aperitivo. Enjoy a relaxed, designed space open to Vienna and the whole world that invites you to eat, to drink, to chat and to chill out while day turns into night.

Pastamara doesn't come from pasta... It's named after a bitter paste, "pasta amara", made from the aforementioned cocoa bean, which is the raw ingredient for many well-known desserts.
Opened for all guests daily from 8 am to 1 am.
Address: The Ritz-Carlton, Vienna, Schubertring 5-7, 1010 Vienna
For further information and inquiries please contact Marketing & Communications Manager Denis Nordmann via +43 1 311 88 318 or e-mail denis.nordmann@ritzcarlton.com.
Source de l'article : https://bit.ly/2LCUeBG