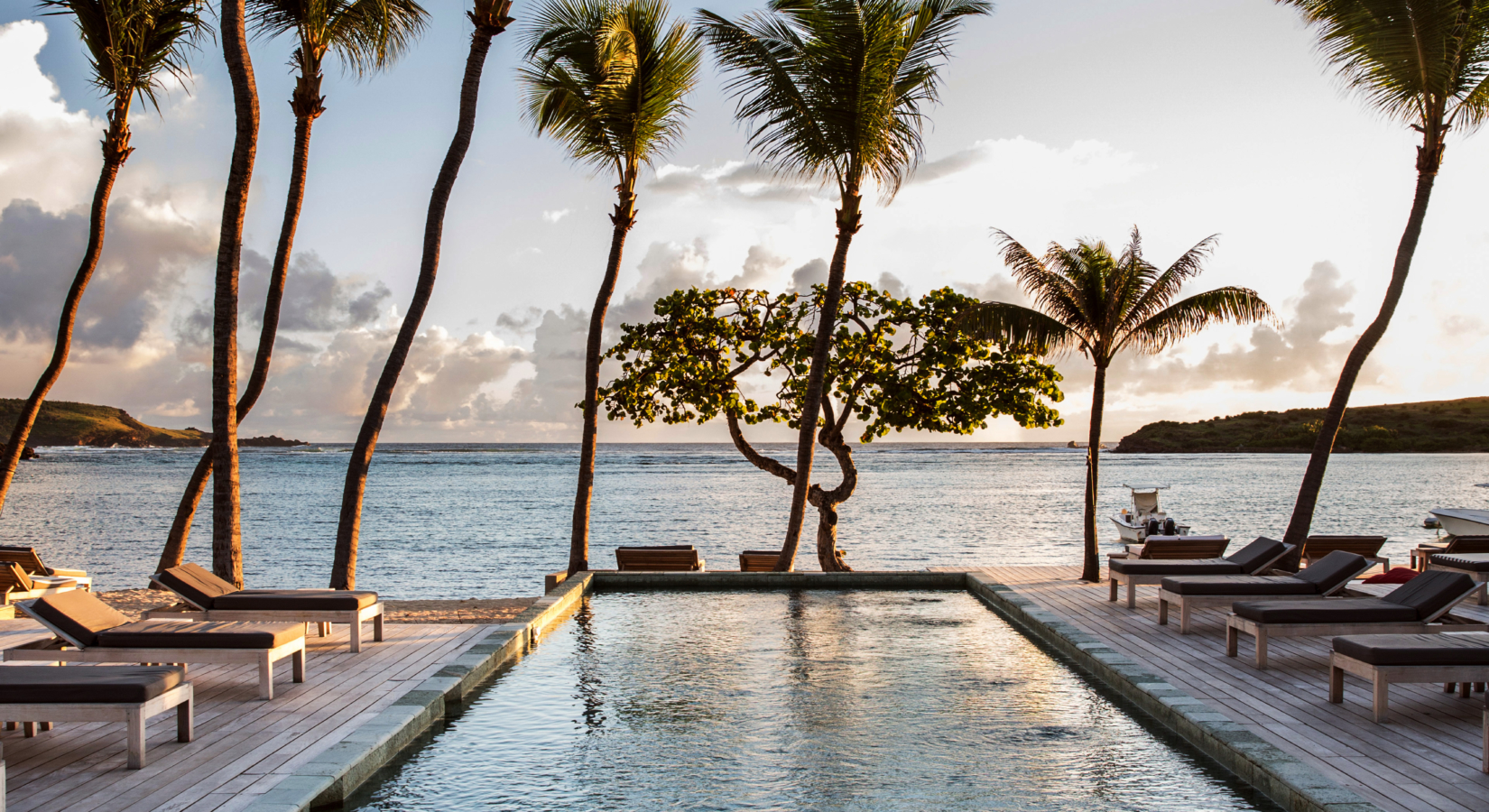 Crédit photo : Le Sereno St-Barth
Sereno Hotels announced Le Sereno St. Barth will reopen and welcome back guests on December 1, 2018. Following damage from the passing of Hurricane Irma in September 2017, the Contreras family decided to demolish and to completely rebuild from scratch a significant part of the property, including more than half the rooms and all the public spaces, while maintaining the iconic style of Le Sereno which has a devoted following amongst guests.
In the true spirit of plus ça change, plus c'est la même chose, the original team that created Le Sereno has been reassembled to undertake a complete rebuild, while keeping the essence of the hotel intact. An intimate beachfront property located on the ultra-private Grand Cul de Sac, a protected coral reef that is popular for kitesurfing, paddle boarding and snorkeling, Le Sereno has long beckoned travelers for its contemporary design and understated luxury service.
With the high level of attention to detail and design-driven ethos that Sereno Hotels is known for, the new Le Sereno will feature the following:
The entire Bungalow Piscine room category has been built from the ground up, featuring larger rooms and new interior design
Three new rooms have been added to the Bungalow Piscine category, two of which are part of a brand-new Family Suite offering that includes private pools for each suite
All-new waterfront Grand Suite Plage Sud rooms built from the ground up, featuring a larger bedroom and private garden with outdoor bathtubs
Completely redesigned restaurant with new bar, lounge and an all-new beach restaurant extension, where guests can dine with their feet in the sand. Le Sereno's much-loved oak roof was rebuilt, and amazing views of the lagoon remain intact
Brand new spa and treatment rooms with products from Valmont and Sothys, and fitness facility with new exercise equipment
New garden space leading up to the Grand Suite Plage rooms, which will retain their classic look with new interiors
New on-site retail boutique featuring curated finds from the exquisite Milan-based boutique Larusmiani, the oldest menswear brand of Via MonteNapoleone, which offers a wide selection of handcrafted in Italy gentlemen clothes and accessories. At Le Sereno, the Boutique will also host a special section called Ladies First, a selection of women's beachwear, accessories and jewelry available exclusively at the hotel
The total room count will increase from 36 to 39 rooms
The iconic and much-Instagrammed pool at Le Sereno overlooking the Grand Cul de Sac retains the same look. The lobby building with its picturesque red doors will also continue to greet guests and each of the three, 7,000 square foot, four-bedroom Villas retain their much-lauded design, while the interiors have been refurbished and the private pools will now be heated.
"We are thrilled and eager to welcome back familiar faces and new guests to Le Sereno and we have been touched by the outpouring of support after Hurricane Irma," said Samy Ghachem, managing director of Sereno Hotels. "Le Sereno has always been known as the most stylish hotel in St. Barth, and we are pleased to raise the bar in the Caribbean yet again. Of course, our signature approach to relaxed luxury and attentive service will remain the same."
A New Era for Le Sereno
In keeping with the Sereno Hotels philosophy of building, owning and operating intimate, design-driven hotels in highly desired destinations, the next phase of Le Sereno St. Barth will truly up the ante in the Caribbean with every room being touched with a fresh design. For the entirely brand-new Bungalow Piscine rooms the designer "flipped" the previous parquet floors and white ceiling and now the ceiling is made of intricate oak carpentry while the floors feature warm white stone. New corner couches have been designed to fit seamlessly into the room and the ceilings are open and airy with an extended height of 11 feet at their peak. The open-concept bathrooms will be air-conditioned, and feature custom made Iroko wood, oak and stone vanities. The Grand Suite Plage Sud rooms were demolished and rebuilt with entirely new finishings, a private garden with outdoor bathtubs and the floorplans have been reworked to allow for more living space. The waterfront Grand Suite Plage rooms, the heart of Le Sereno, will feature new interiors, new technology, fantastic new furnished waterfront terraces, and a walkable garden in front of the suite entrances, to enhance the guest experience.
"The former Le Sereno was beloved by clients and in the past, when asked about potential renovations at Le Sereno, I always said that the hotel was almost perfect and that we continually invested a lot of money every year so that the property would keep its integrity. After the passing of Hurricane Irma, we had the unique opportunity to completely reimagine the hotel, while still making it feel the same," said Luis Contreras, owner of Sereno Hotels. "We have applied our experience from operating the hotel for more than ten years to implement state of the art technology, while keeping all of what made Le Sereno so great. While the hotel is new, our loyal guests will feel that little has changed."
Amongst the amenities that won't change, guest rooms will again include robes and towels made by D. Porthault exclusively for Le Sereno and bath toiletries by Ex Voto Paris, a private bar, 24-hour room service, in-room technology including complimentary Wi-Fi, cordless telephones, electrical outlets easily accessible next to the bed, flat screen TV's and blue-tooth music systems. Guests will continue to be welcomed with complimentary beach bags and custom Le Sereno Havaiana flip flops; also returning will be Anya Hindmarch's custom-designed Le Sereno bags and accessories.
The Spa at Le Sereno has been expanded and now includes three full treatment rooms, including the guest favorite waterfront pavilion, a coveted space for relaxation and the island's only beachfront treatment room. In-room spa services are also available. The new fitness room will boast the latest fitness technology and equipment. In between the spa and fitness facilities is a new garden that provides a serene space for guests to practice yoga or meditation.
New Restaurant Le Sereno and Beach Restaurant
The central heartbeat of the hotel is Restaurant Le Sereno, which will unveil a new look, while still maintaining 180-degree views of Grand Cul de Sac. A fully open-air concept, the space takes maximum advantage of the dramatic surroundings giving guests a water view from almost every angle. A new bar centrally located in the restaurant will serve up craft cocktails made with the freshest ingredients and an extensive list of wines and spirits. The bar will also feature a newly added juice station, where guests can order up freshly squeezed wellness and detox elixirs.
Executive Chef Alex Simone returns to Le Sereno and will unveil a new menu for the restaurant that features signature dishes seamlessly integrated with updated offerings. With a focus on Mediterranean dishes made with the freshest ingredients and fit perfectly with the restaurant's beachfront setting, guests will find French and Italian infusions throughout.
An all new beach restaurant experience will also debut just steps from the crystal-clear waters of the Grand Cul de Sac. Located adjacent to the main restaurant, the entirely new space offers casual dining under the shade of coconut trees, where guests can have their feet in the sand and a million-dollar view of the Grand Cul de Sac's protected reef. The restaurant is the perfect spot to sip on cocktails and enjoy a laid-back meal without having to leave the serenity of the beachfront location.
Environmental Considerations
Building the new Le Sereno provided an opportunity to take environmental impact into account in every aspect of the hotel. New solar panels, air conditioners with heat exchangers and LED lighting allow the hotel to offer new amenities to guests while significantly lowering energy consumption throughout the property. All of the new construction is made with sustainably sourced woods and stone. The entire property is outfitted with new windows and insulation designed to reduce energy consumption. Le Sereno also features on-site water desalinization capability and grey water is treated and reused for irrigation; which allows the property to be completely "off the grid" from scarce city water resources.
Le Sereno St. Barth's will welcome guests in late December 1, 2018 with starting rates beginning at 760 Euros/night.
Source de l'article : https://www.hotelnewsresource.com/article102207.html