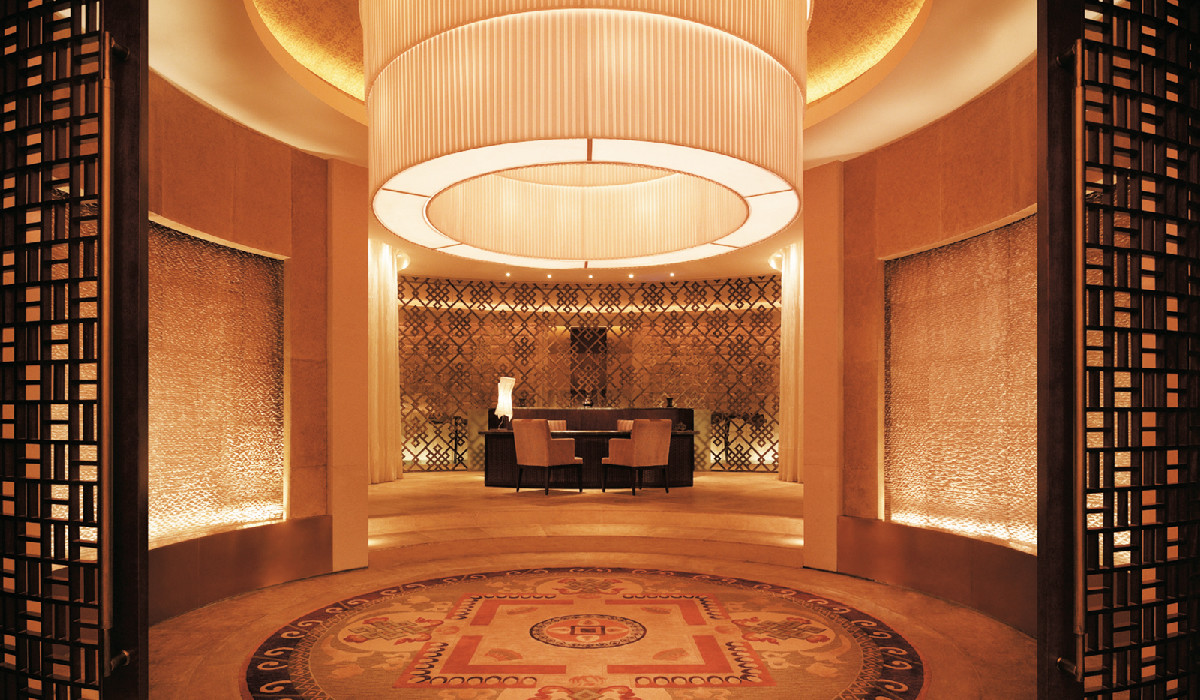 Crédit photo : Shangri-La Hotel, Guangzhou
The hotel and technology industries are racing to offer smarter and smarter hotels to guests, and Shangri-La Hotels and Resorts is the latest company to benefit from the push.
The Shangri-La Group and Tencent have inked a strategic cooperation agreement for the development of high-end smart hotels. The partnership will expand to more future collaborations across various businesses within the Shangri-La Group worldwide.
From left: Shangri-La Asia CEO Lim Beng Chee; Bai Zhenjie, director of operations, Wechat Pay; Hui Kuok, chairman of Shangri-La Asia; Tencent SVP Dowson Tong; Yang Jiancheng, CTO of Shangri-La Hotels and Resorts; Tencent VPs Da Zhiqian and Zeng Jiaxin. Photo credit: Shangri-La Group

Hong Kong-based Shangri-La will use Tencent's advanced cloud and artificial intelligence technologies, social network and payment tools to intelligently improve the traditional services and operations at hotels to bring more convenience and personalized services for customers.
Shangri-La Hotels and Resorts, part of the Shangri-La Group, includes the Shangri-La Hotels, Shangri-La Resorts, Traders Hotels, Kerry Hotels and Hotel Jen brands. The company has more than 100 hotels and resorts throughout Asia Pacific, North America, the Middle East and Europe and has a room inventory of more than 40,000.
The Tencent and Shangri-La partnership is an example of collaboration between traditional hotel industry and the internet and technology sector, reports the Policy Times. Tencent's technology in cloud computing, AI, social communications and payment platforms will help support Shangri-La transform its services and operations.
"We share the same vision with Tencent that technology is people-oriented," Hui Kuok, chairman of Shangri-La Asia, said in a statement. "People and service are at the core of our business. The value of technology is not to replace the warmth of human contact and personal interaction. We will strive to work with Tencent and integrate hardware with heartware."
Tencent will be able to leverage Shangri-La as a testbed to continuously enhance and promote its smart hotel technologies. Shangri-La also will support Tencent's strategic expansion in overseas markets with its global network of hotels and commercial resources to help promote China's cutting-edge technology.
They will also explore innovative practices related to digital and intelligent technologies in different business sectors, including Shangri-La's diversified real estate business in shopping malls, service apartments, office buildings and more than 500 hotel restaurants and other catering business.

Smart hotels are nothing new in the Asia hotel landscape. Last week, China's e-commerce giant Alibaba Group unveiled its first "future hotel," also known as "Flyzoo Hotel," in Hangzhou, China, according to local media reports. The unmanned hotel marks the company's entrance into the Internet of Things sector.
The hotel's operation relies on smart interactive technologies, particularly facial recognition. A 1-meter high robot serves as a receptionist, remembering guests by using facial recognition technology. The hotel also uploads guest details to the country's national public security system via a machine located in the lobby. FlyZoo still employs humans—to run housekeeping.

Last February, travel agency H.I.S. Company was eyeing an ambitious plan to build eight more robot-staffed Henn na Hotels, according to the Japan Times. The original Henn na Hotel opened in July 2015 in Nagasaki, Japan. It is run almost entirely by machinery, including the check-in receptionist (an android for guests who speak Japanese; a dinosaur for English-speakers) and the porter that helps guests with their luggage—in this case, an automated trolley.
Source de l'article : https://www.hotelmanagement.net/tech/shangri-la-and-tencent-partner-for-smart-hotels-development