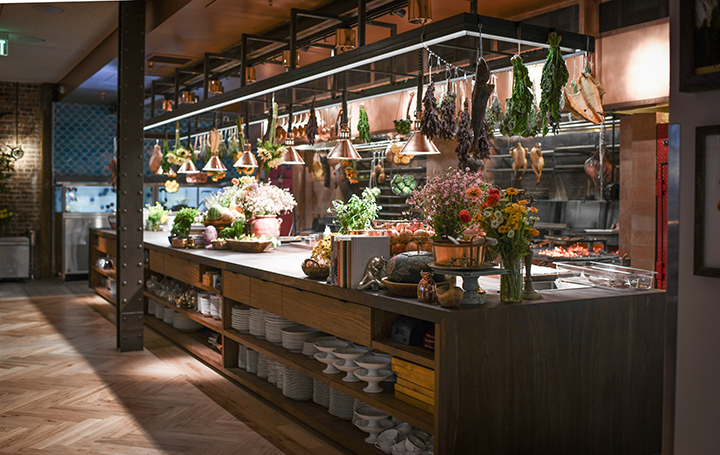 Crédit photo : Bonjiwng Lee
Chef Joshua Skenes's much-anticipated restaurant has opened on the Embarcadero waterfront.
Joshua Skenes of three-Michelin-starred Saison fame has finally brought his seafood-focused restaurant, Angler, to the great people of San Francisco.
Located on the Embarcadero waterfront, the "sea life-focused eatery" is much more casual and relaxed than its older sibling, featuring over 116 seats (including a 30-seat private dining room entitled "The Game Room"), taxidermy (read: various fish, a full-scale bear and bighorn sheep) and live tanks brimming with an array of aquatic life—all to be soaked in while listening to tunes of the 1980s.
The kitchen is helmed by executive chef Nicolas Ferreira and the menu showcases Skenes's philosophy—high quality ingredients sourced from a small group of local purveyors that are cooked on the 32-foot wood-burning hearth. Priced between $12 and $48, guests can expect a raw bar of fresh oysters, clams, sea urchin, cured Amberjack and antelope tartare, and mains including spot prawns, California king crab, scorpion fish and hot grilled rabbit.
The wine list at Angler, curated by wine director/co-founder Mark Bright, shows a great emphasis on the Old World-style, in particular wines from Burgundy and California wine country.
Angler is located at 132 The Embarcadero and is open from Tuesday to Saturday from 5:00 p.m. to 10:00 p.m, with extended hours coming soon.
Source de l'article : https://guide.michelin.com/us/washington-dc/dining-out/angler-restaurant-opening-josh-skenes-san-francisco/news