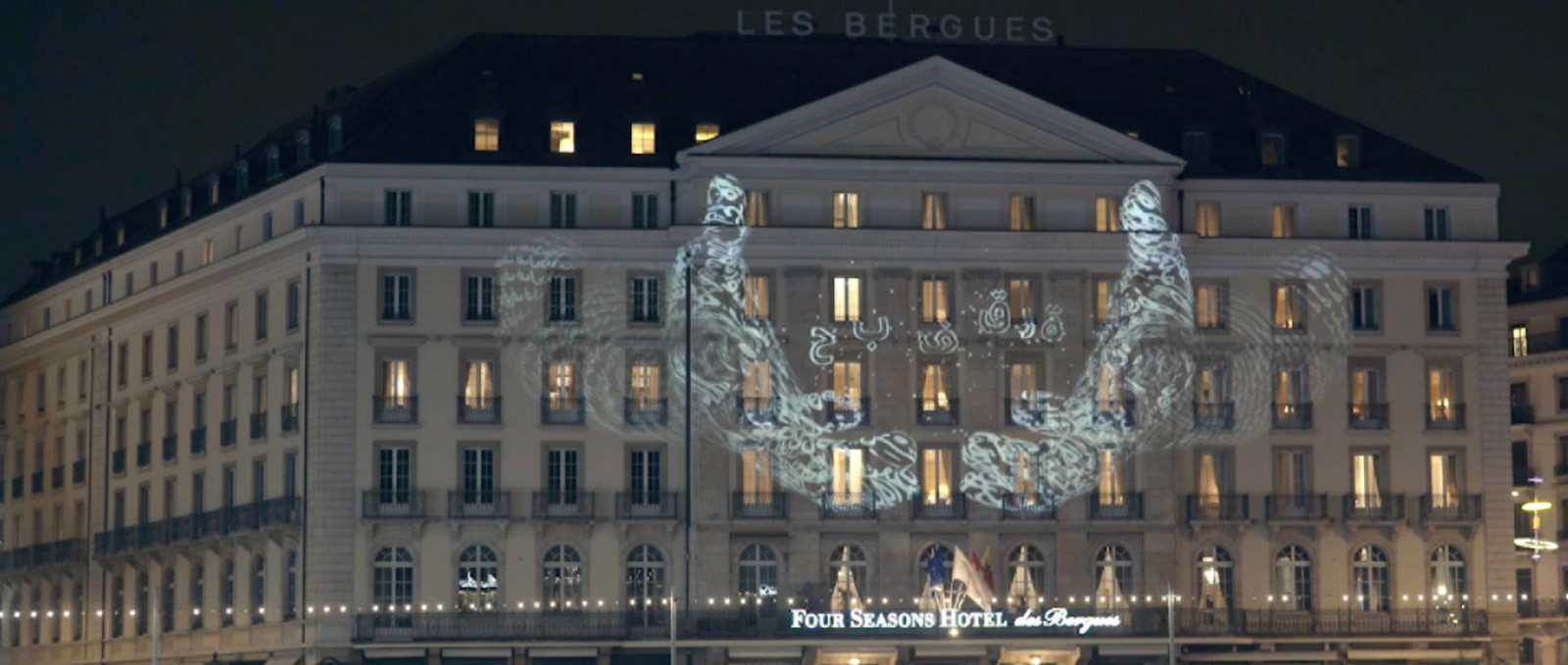 Crédit photo : Four Seasons Hotel des Bergues Geneva
For the third consecutive year, Four Seasons Hotel des Bergues Geneva has collaborated with Geneva Lux Festival, celebrating works of light created by artists from all over the world.
Through January 13, 2019, Four Seasons Hotel des Bergues Geneva hosts its very own display of lights as part of a collection of illuminated works of art filtered through the city. Bringing a mythical and enchanting feel to the city of Geneva, the Hotel will exhibit Swiss collective ENCOR, who have designed Typographical Games for Poetry Collection, a display based on three distinct artistic disciplines - architecture, poetry and typography.
Built in 1834, the Hotel's classical architecture serves as the base of an eight-minute visual display, combining the characteristics of its classical façade with contemporary light visuals. The display features the texts of ten international poems, written in different alphabets and languages, to highlight the vibrant spirit and diversity of the city. The collection of evocative poems is illustrated through unique typography, paying tribute to the tradition of Swiss design, emphasising their unique expertise in the field, and the beauty of fonts created by reputable calligraphers of the past and present.
The contrasting nature of the finite architectural space on which the display comes to life, and the vast lyrical universe in which the poems were created, forms a unique and contemporary concept, anchored by the tradition of Swiss graphic design.
Illuminating the city, Four Seasons Hotel des Bergues Geneva boasts enchanting views of Lake Geneva and the distant snow-capped Alps. Remaining a distinguished landmark of Geneva, a visit to the remarkable installation can coincide with a refined Italian meal at the Michelin-starred Il Lago, or even a rejuvenating massage at the rooftop Spa. Round off the evening with an innovative cocktail at Le Bar des Bergues prepared by the Best Bartender in Switzerland 2016, Sophie Larrouture.
Revel in the splendour of wondrous décor of Four Seasons Hotel des Bergues as it lights up Geneva this festive season. Enjoy a panoramic view of the illuminated skyline alongside a selection of colourful sashimi at Izumi, the Hotel's Japanese rooftop restaurant with an expansive view overlooking the sparkling city.
Source de l'article : https://press.fourseasons.com/geneva/hotel-news/2018/geneva-lux-festival/