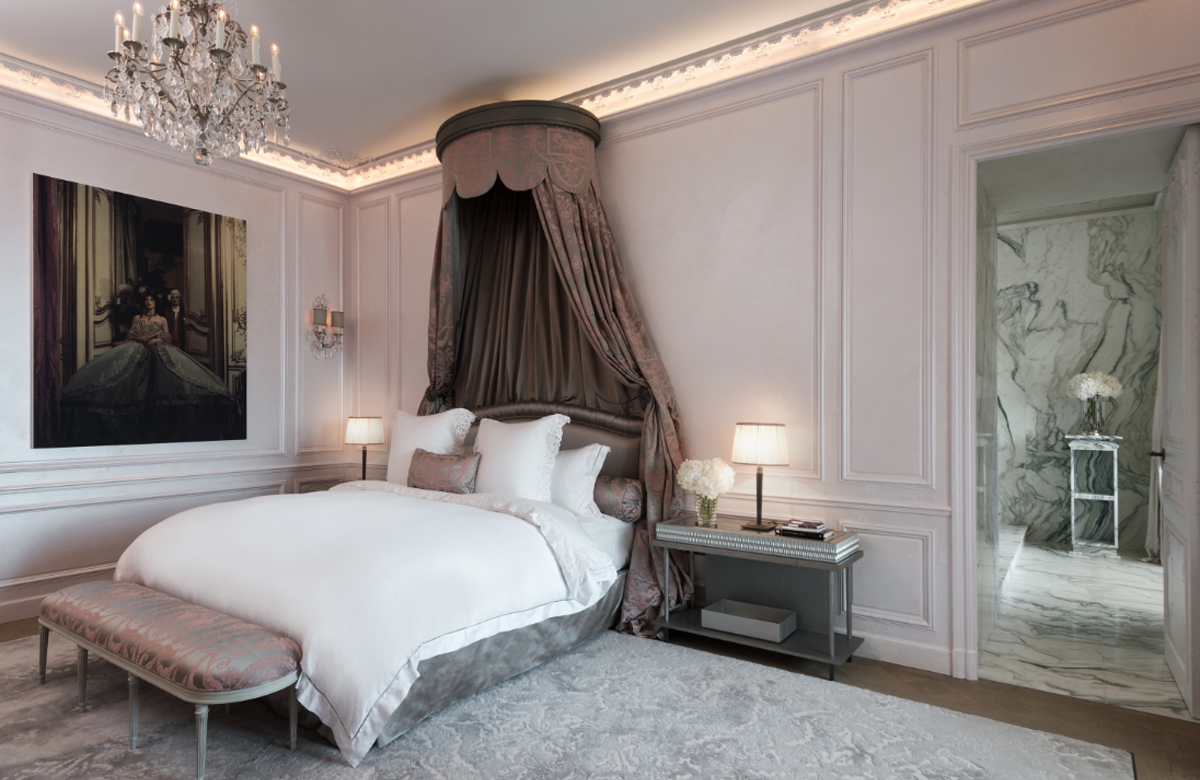 Crédit photo : Hôtel de Crillon, A Rosewood Hotel
Queen (or King) of the castle – An unprecedented private sojourn at a legendary château
A feast for the senses awaits at the fabled Château de Chenonceau, former home of Catherine de Médicis, and second only to the Palace of Versailles in popularity. The experience includes exclusive access to the castle and gardens, Renaissance-inspired dinner by Michelin-star chef Christopher Hache, Maison Caulières oil tastings, rare vintages of Domaine de la Romanée Conti presented by Hôtel de Crillon's Head Sommelier Xavier Thuizat and performance by the Opéra de Paris ballet. Accommodation will be in a sumptuous bespoke suite at the Chancellerie, facing the château, followed by a night in the signature Suite Marie-Antoinette at the Hôtel de Crillon.
Château de Chenonceau (photo credit: Jean-Christophe Coutand)

Few châteaux conjure up the romance and magic of a fairy-tale castle like the Château de Chenonceau, a 16th century Gothic-Renaissance masterpiece of turrets, towers, arches and spires that seemingly float above the River Cher in the Loire. Affectionately known as the Château des Dames, it has been shaped by and been home to a succession of noble women, including Diane de Poitiers, mistress of Henry II, Catherine de Medicis, Queen of France, and Louise Dupin, famed for her literary salons.
Now, for the first time since the days of kings and queens, the château and its magnificent grounds will be the private domain of a privileged outside guest for a night. The once-in-a-lifetime adventure begins with a helicopter ride from Paris to arrive in time for a sunset tour of the château and its magnificent gardens. Maison Caulières, the aristocratic French house renowned for its premium botanicals and essential and edible oils, will provide access to and private tastings of their Réserve de Famille, highly-prized oils kept normally only for the family's consumption.
The evening's magical festivities begin with a performance by the venerable Opéra de Paris ballet, which will take place in the stunning Grande Galerie, followed by a lavish Renaissance-inspired dinner fit for a queen, created by the Hôtel de Crillon's Michelin-starred Executive Chef, Christopher Hache. Adding to the decadence, Domaine de la Romanée Conti has paired an exclusive selection of their vintages for this banquet.
When sleep calls, guests will be coddled in a luxurious, bespoke suite at the Chancellerie – created especially by the Hôtel de Crillon for the night – and wake up to incredible views of the magnificent gardens. A personal butler from the hotel will attend to their every need during the stay. After a sumptuous breakfast, a helicopter will whisk guests back to the Hôtel de Crillon in Paris, where they will spend two nights in the Suite Marie-Antoinette, the same one where the French Queen spent her early years.
Price from EUR 150,000 per package. For reservations, please email us at crillon@rosewoodhotels.com
Source de l'article : https://www.rosewoodhotels.com/en/hotel-de-crillon/offers/12days