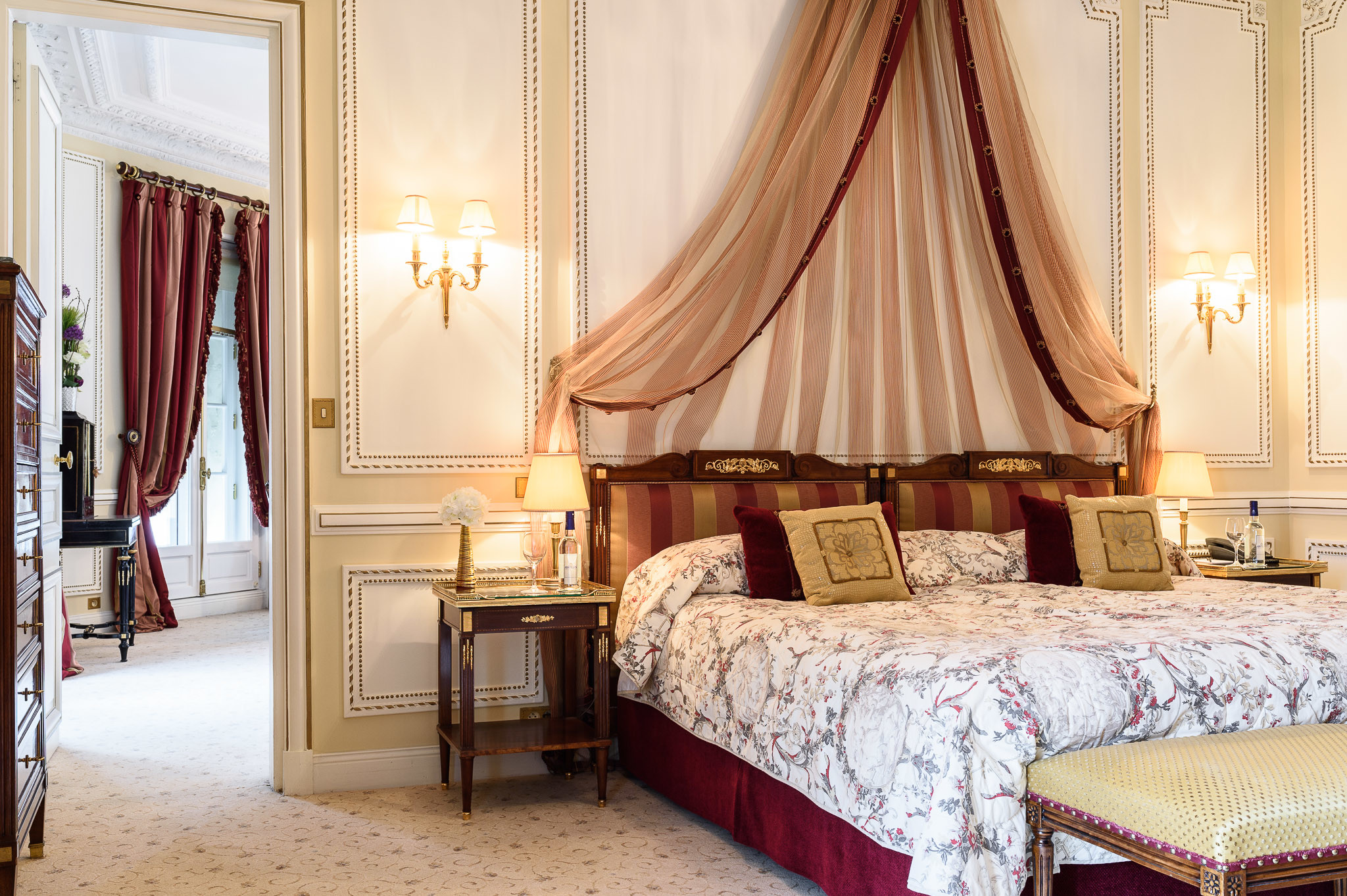 Crédit photo : Hôtel du Palais
The iconic hotel on the Atlantic coast will become the third hotel in France under The Unbound Collection by Hyatt

CHICAGO--(BUSINESS WIRE)--Hyatt Hotels Corporation (NYSE:H) has announced today that a Hyatt affiliate has entered into a management agreement with Socomix for the Hôtel du Palais in Biarritz, France. This historic, luxury palace will be the third property in France to join The Unbound Collection by Hyatt brand, alongside Hôtel du Louvre in Paris and Hôtel Martinezin Cannes.
As the sixth property in The Unbound Collection by Hyatt in Europe, the 142-room hotel will mark a significant milestone for the brand's growth. In addition to Hôtel du Palais, Great Scotland Yard Hotel in London and Parisi Udvar Hotel in Budapest are expected to open under this brand before the end of 2019.
As a living memory of the Biarritz history, the "Villa Eugénie", now Hotel du Palais, was built in 1855 by Napoléon III for his wife Eugénie de Montijo. With its captivating past, its exclusive, prime location facing the Atlantic ocean and its famous architecture and design, Hôtel du Palais will deliver on the brand's promise to create story-worthy and shareable experiences for the modern traveler, making it a natural addition to The Unbound Collection by Hyatt portfolio. Guests will be able to follow in the footsteps of global celebrities who indulged in the alluring French glamour of this property, one of France's prestigious palace hotels.
The hotel will be fully renovated by renowned design companies, including Atelier COS, honoring traditional French luxury and the hotel's rich heritage. A partial reopening is set to take place between July and October 2019, and final renovations are scheduled to be complete for a full reopening in June 2020. New features will include renovated guestrooms, two revitalized signature restaurants, a new lounge and bar, as well as restored public areas to create a lively local atmosphere for guests.
"Hôtel du Palais provides Hyatt with a unique opportunity to take on a property steeped in rich national history, significantly strengthening our European resort offering for Hyatt overall and The Unbound Collection by Hyatt brand in particular," said Guido Fredrich, regional vice president, development Europe. "We have seen some significant additions to the brand throughout the course of this year and our priority remains expanding its footprint in a meaningful way. Hôtel du Palais, with its exclusive location, elegant design and unique story, is a perfect fit for The Unbound Collection by Hyatt brand."
"We are delighted to work with Hyatt to convert this landmark building. The iconic Hôtel du Palais will be a great addition to The Unbound Collection by Hyatt due to its rich history and personality," said Michel Veunac, president at Socomix. "The renovation will maintain the Second Empire style which defines Biarritz and assures its reputation as a refined sea resort."
There are currently eight other Hyatt properties open in France, including the new Hyatt Centric La Rosière, Hôtel Martinez in Cannes, Hyatt Paris Madeleine, Hyatt Regency Nice Palais de la Méditerranée, Hyatt Regency Paris - Charles de Gaulle, Hyatt Regency Paris Étoile and Park Hyatt Paris-Vendôme. Hotel du Louvre is currently under renovation and Hyatt Regency Chantilly is scheduled to open in late 2018 along with three additional hotels expected to open under Hyatt's select service portfolio in the coming years: Hyatt Place and Hyatt House Charles De Gaulle Airport and Hyatt Place Rouen.
For more information, please visit https://unboundcollection.hyatt.com/en/unbound.html
The term "Hyatt" is used in this release for convenience to refer to Hyatt Hotels Corporation and/or one or more of its affiliates.
About Hyatt Hotels Corporation
Hyatt Hotels Corporation, headquartered in Chicago, is a leading global hospitality company with a portfolio of 14 premier brands. As of June 30, 2018, the Company's portfolio included more than 750 properties in more than 55 countries across six continents. The Company's purpose to care for people so they can be their best informs its business decisions and growth strategy and is intended to attract and retain top colleagues, build relationships with guests and create value for shareholders. The Company's subsidiaries develop, own, operate, manage, franchise, license or provide services to hotels, resorts, branded residences, vacation ownership properties, and fitness and spa locations, including under the Park Hyatt®, Miraval®, Grand Hyatt®, Hyatt Regency®, Hyatt®, Andaz®, Hyatt Centric®, The Unbound Collection by Hyatt®, Hyatt Place®, Hyatt House®, Hyatt Ziva™, Hyatt Zilara™, Hyatt Residence Club® and Exhale® brand names. For more information, please visit www.hyatt.com.
About Hyatt Unbound Collection
The Unbound Collection by Hyatt brand is a portfolio of new and existing upper-upscale hotel properties, ranging from historic urban gems to contemporary trend-setters, boutique properties to resorts and private home accommodations. Whether it is a fascinating past, an exclusive location, famous architecture and design, or an award-winning dining experience, the properties in the collection provide guests with "social currency" and allow them the freedom to be extraordinary. Current hotel properties include Royal Palms Resort and Spa in Phoenix; The Confidante in Miami Beach, Fla.; Ocean Resort Casino in Atlantic City, N.J., The Eliza Jane in New Orleans; The Bellevue Hotel in Philadelphia; Holston House in Nashville, Tenn.; The Driskill in Austin, Texas; Spirit Ridge in Osoyoos, British Columbia; Hôtel Martinez in Cannes, France; Hôtel du Louvre in Paris (under renovation); Jinmao Hotel Lijiang in Lijiang, China; Nish Palas in Istanbul, and Carmelo Resort & Spa in Uruguay. For more information, please visit unboundcollection.hyatt.com. Follow @UnboundxHyatt on Facebook and Instagram
Source de l'article : https://www.businesswire.com/news/home/20181026005329/en/