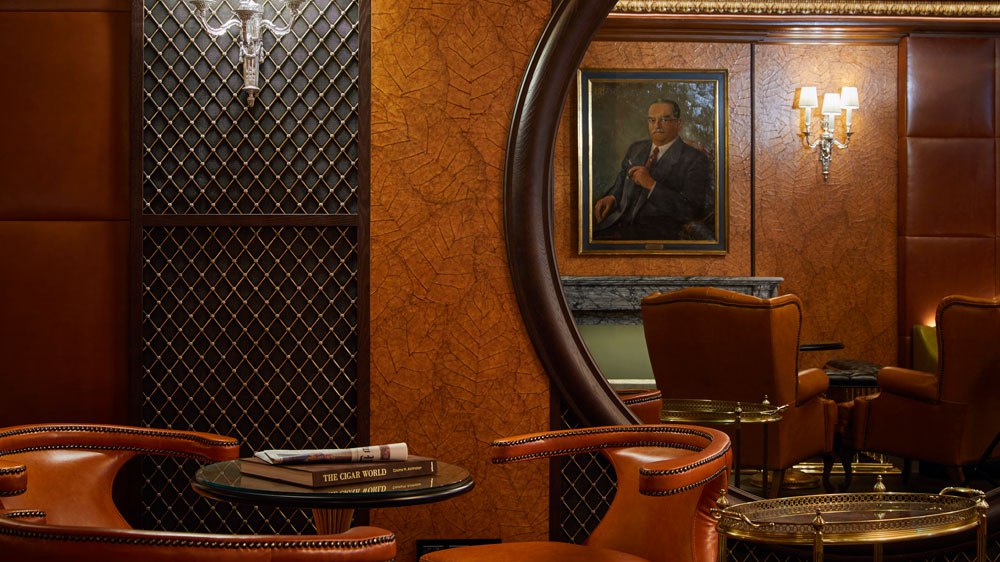 Crédit photo : Moritz Hoffmann
Kempinski cigar lounge by Zechbauer
As of 2 August 2018, the finest cigars meet the exclusive ambience of a British gentlemen's club at the Kempinski Cigar Lounge by Zechbauer München. The perfect atmosphere to enjoy your cigar or cigarillo.
A highlight of the Cigar Lounge are the 18 elegant, private humidors, where guests may store their valued cigars to preserve a perfect aroma, even when storing them for a longer time. The minimum rental period is two years at a rental cost of EUR 3,000 p.a.
To honour not only the traditions of the hotel but also the key theme of tobacco, interior architect Colin Finnegan has incorporated these key elements into the design. Thus, genuine Tabaco Leaf wall panelling and tables are featured in the Cigar Lounge. Let us take you on a journey back into royal times when entering the Cigar Lounge without giving up on the latest modern conveniences.
The smoke extraction technology is one of the most efficient systems available. Visitors are able to enjoy a lounge without the smell of cigars, even leaving clothes odourless.
At the cigar shop by Max Zechbauer, Munich's most regarded supplier of cigars and accessories, guests have direct access to the lounge. At the shop, you have a vast selection of the most valued cigar brands, including Arturo Fuente, Davidoff, Cohiba and Daniel Marshall 24 Karat Gold Cigars, as well as sought-after rare finds. A wonderful treat: guests can test cigars in peace and quiet in the lounge before purchasing larger quantities.
Cigar Shop – Opening hours:
Mondays to Saturdays, 10:00am – 8:00pm
Cigar Lounge – Opening hours:
All year, all hours
Contact for reservation for private events and private humidors:
Hanno Barkhoff, Executive Assistant Manager
Good to know
Food and drinks are not served at the Cigar Lounge
Email Contact:
gastronomie.vierjahreszeiten@kempinski.com
Telephone:
+49 89 2125 2220

Dress Code: Business Casual
Smoking: Yes
Source de l'article : https://www.kempinski.com/en/munich/hotel-vier-jahreszeiten/dining/kempinski-cigar-lounge-by-zechbauer/