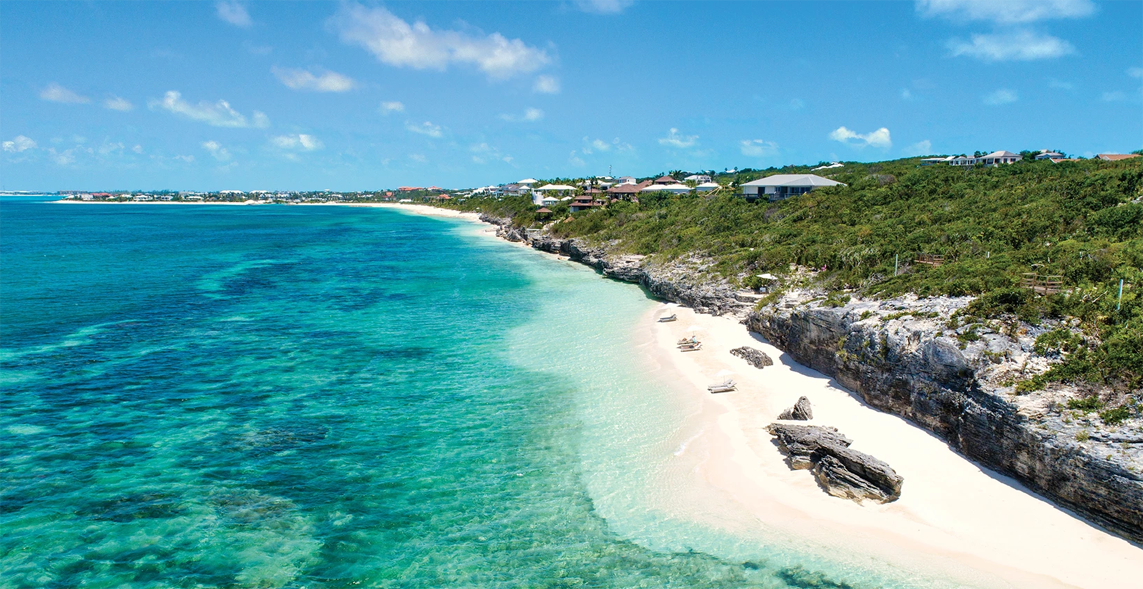 Crédit photo : Rock House
Rock House, the first cliffside residential resort on Providenciales's north shore, released new renderings of a new collection of homes with the resort: The Hilltop Condos.
Rock House, the first residential resort tucked into the limestone cliffs of Providenciales' north shore inspired by the seaside resorts of the French Riviera, is launching sales for nine new Hilltop Condos. These new condos will overlook the main resort and be set among native vegetation with ancient trees that date back hundreds of years.

The Hilltop Condos will feature three two-story buildings with a mix of one- and two-bedroom units on the first level and full floor penthouses with views of the sea directly above. The focal point of the Hilltop Condos will be a quarry pool that will be carved directly out of the limestone cliffs. Homes in this section of the resort are priced between $695,000 and $1.475 million.
Details of the Rock House include:
Residential resort Rock House, created by Grace Bay Resorts, will be a Caribbean version of a Mediterranean rendezvous overlooking the ocean.
Emulating the seaside towns found in Capri, Rock House will sit on a 14-acre oceanfront site with 600 feet of frontage and peaks soaring up to 95 feet above sea level.
AD100 interior designer Shawn Henderson and local Coast Architects will incorporate elements of Rock House's natural surroundings into its Capri-inspired design.
Homes will boast spa-like outdoor shower gardens and feature walls made of the local limestone as well as 13-foot vaulted ceilings, floor-to-ceiling glass windows and doors and private pools.
Amenities will include The Beach Club with 100-foot infinity fool that will appear to reach the water, a private beach sandwiched between waters and limestone cliff and a restaurant. At dusk, the island's sunset will be reflected in the pools while the club lanterns will be lit, and the poolside daybeds will be transformed into lazy evening loungers beneath swaying palm trees.
Pricing for the rest of Rock House's units start at $600,000 and homes are over 50 percent sold.
Rock House is set to break ground later this year with the resort officially opening to guests in 2020.
Source de l'article : https://www.luxurytraveladvisor.com/hotels/rock-house-unveils-new-hilltop-condos