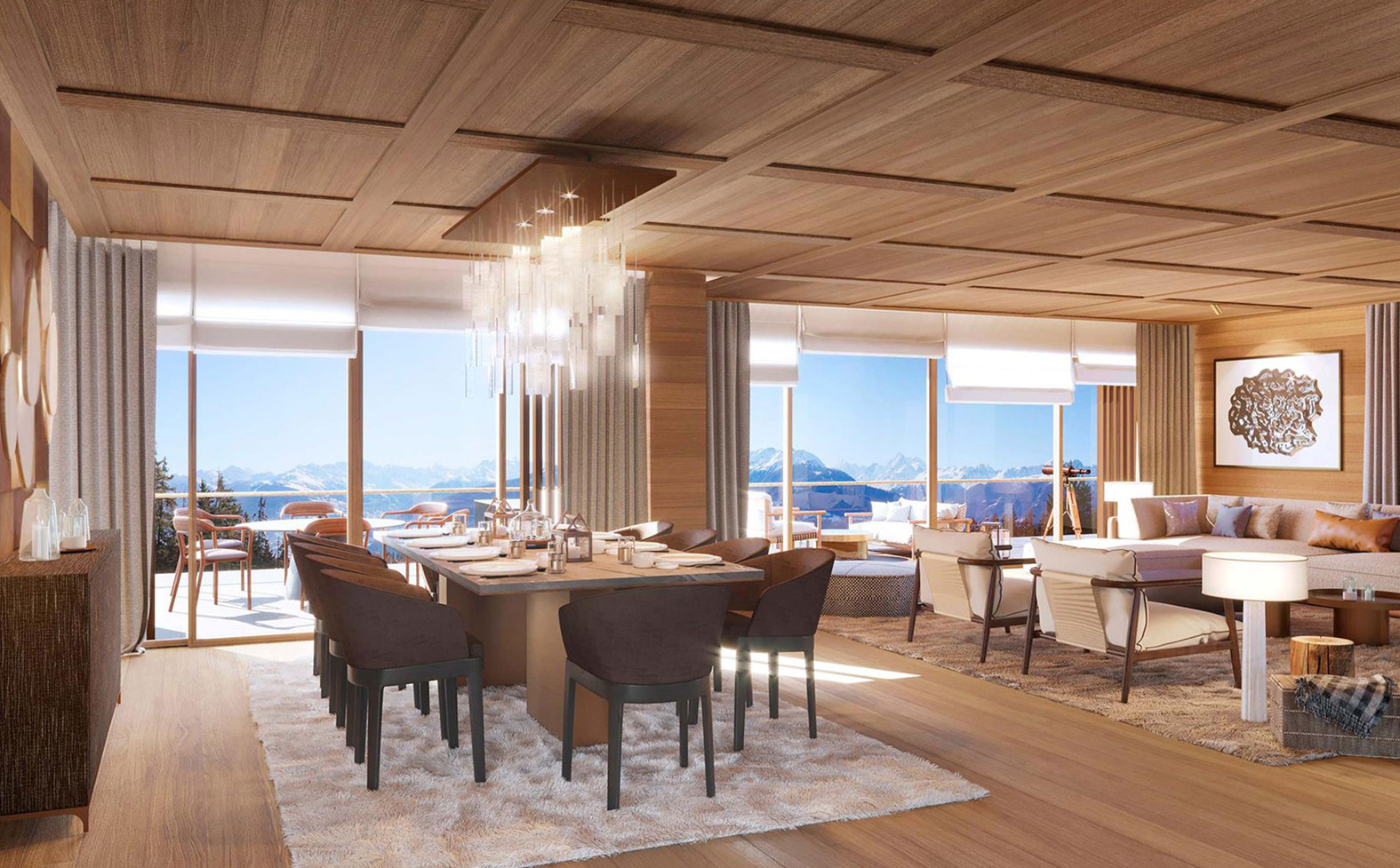 Crédit photo : Six Senses Crans-Montana
Six Senses Crans-Montana marks the first resort and residential project in Switzerland for Six Senses Hotels Resorts Spas, in the Alpine destination of Crans-Montana. Slated to open in 2021, the resort and residences will both be managed by the Six Senses hotel group.
The resort will have 47 fully furnished apartments and 17 residences, along with two restaurants, a bar, a terrace with scenic views and a Six Senses Spa.

One of the last projects of its kind, Six Senses Crans-Montana presents a rare opportunity for non-resident buyers to acquire residential property in Switzerland. The project's special license allows 13 residences to be sold to foreign investors as second homes.
Construction of the resort began in October 2017 and the development partner on the project is 1875 FINANCE, an independent financial advisor and leader in wealth management. With its 47 apartments and 17 residences, Six Senses Crans-Montana will be a unique offering in what is considered a renowned area in the Alps for both skiing in the winter and activities like walking and cycling in the summer.
Accommodations and Residences
The property is placed in the heart of the Swiss Alps and has been built to blend with its surroundings, providing residents and guests with scenic views and an ideal place to relax and retreat from everyday life. The resort's 47 units are divided into rooms and suites; there are also 17 private residences for sale, of which four have been sold already. Residences range in size from 2,260 to 3,550 square feet and include four- and five-bedroom apartments, with two- to three-bathrooms and three-bay garages.
London-based property consultancy Sorores have been engaged to work on the global business development of the project, working in partnership with local agents BARNES. Depending on size, prices start at $6.2 million, and Six Senses Crans-Montana has a license to sell 13 residences to non-residents of Switzerland as second homes – making this a rare opportunity. This resort is one of the last in Switzerland where non-residents will be allowed to acquire residential property.
A Year-Round Resort
Perched in the middle of a natural landscape, the resort offers panoramic views that stretch from the Matterhorn to Mont Blanc. The area's climate also provides up to 300 days of sunshine per year. In addition to the various winter sports, Crans-Montana is a destination for golf lovers in summer. Nearby is the Crans-sur-Sierre Golf Club, with its two golf courses (nine and 18 holes) where the Omega European Masters, one of the most famous European golf tournaments, is held every year.
Six Senses Crans-Montana will have two restaurants, a bar and a terrace with scenic views.

Six Senses Spa Crans-Montana will measure 21,527 square feet and focus on uniquely adapted alpine therapies and treatments. Guests and residents will have access to a gym, a swimming pool and a relaxation area. A separate spa area for children and teenagers will also be included with treatments adapted for younger guests.
Six Senses Crans-Montana will also offer off-site experiences, individually adapted to the wishes and requirements of guests, whether it be bespoke excursions into nature, sports activities, or social and cultural events.
Six Senses Crans-Montana will work towards sustainability. As a result, everything is handmade, the majority using local materials that reflect the natural surroundings and the region. Energy-efficient systems are integrated throughout, with modern energy and water technologies playing a central role in the conception and design process. Efficient lighting and lighting control, ozone protection and renewable energies are present throughout the building.
Source de l'article : https://www.luxurytraveladvisor.com/hotels/six-senses-crans-montana-targets-2021-opening