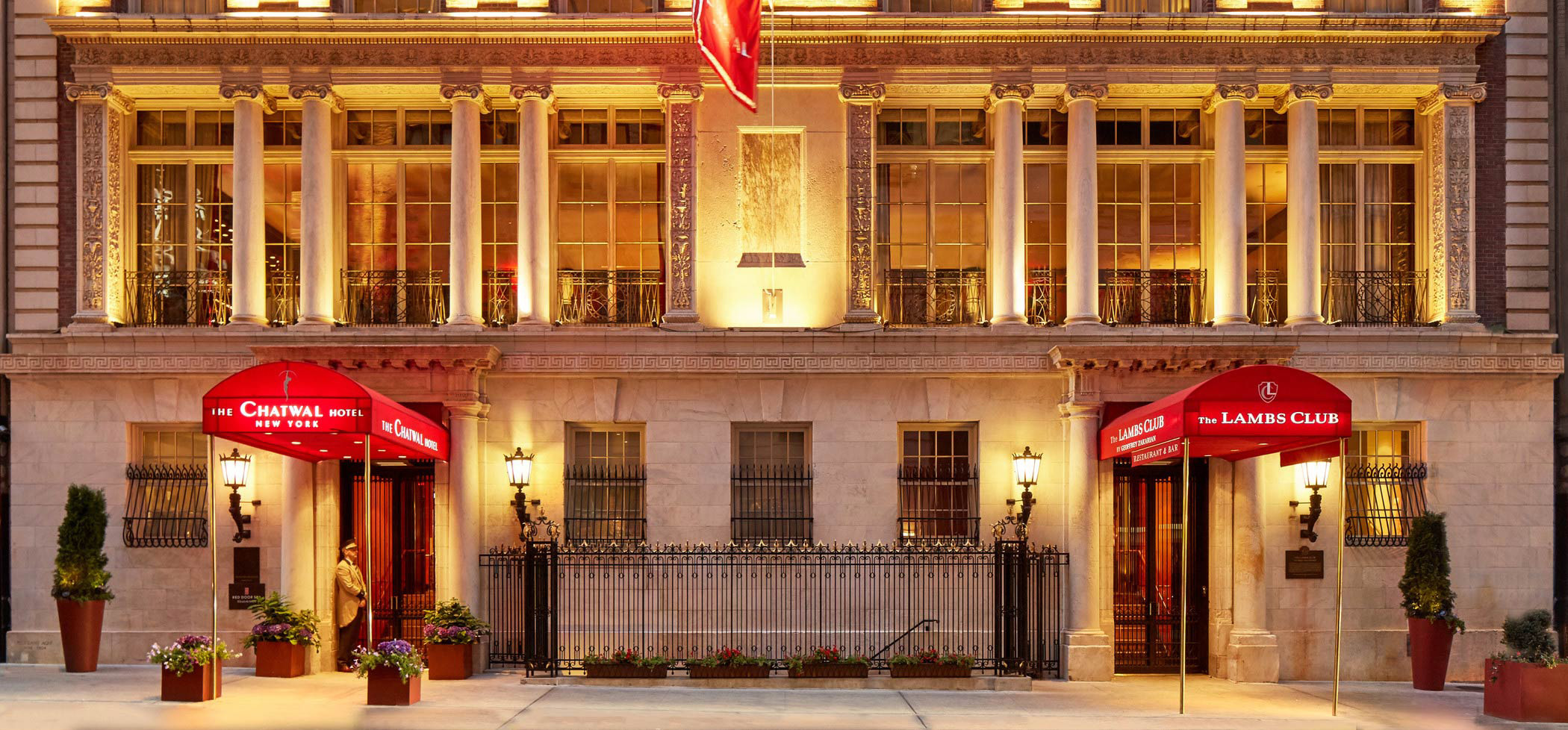 Crédit photo : The Chatwal
Five-star Luxury Resort To Anchor Revitalization Of Iconic Catskill Mountains; Opening 2020
Scheduled for Q2 2020 – 34 Rooms
Developed by Dream Hotel Group and designed by Nunzio Marc DeSantis Architects, The Chatwal Lodge will be a driving force in the ongoing restoration and revitalization of New York's famed Catskill Mountains. Nestled among 26 acres along the wooded shores of the 1,000-acre Toronto Reservoir, the five-star luxury retreat is expected to open in spring 2020 with 34 private villas and suite accommodations, refined rustic design and world-class, farm-to-table culinary experiences by DUCASSE Paris, founded by multi-Michelin-starred chef Alain Ducasse.
The groundbreaking ceremony for this exciting development took place yesterday, Wednesday, December 5, 2018, at 11:00am, and featured New York State Assembly Member Aileen M. Gunther and Bethel Town Supervisor Dan Sturm as keynote speakers, leading members of the Dream Hotel Group team: Chairman Sant Singh Chatwal, CEO Jay Stein, and Vice President of Operations, Luxury Division Ashish Verma, as well as Chapin Estate Developer Steve Dubrovsky, Architect Nunzio DeSantis, and Granite Associates Chairman & CEO Alan Gerry, among others.
Rustic and refined, The Chatwal Lodge offers an elegant and charming play of details literally carved straight out of the woods from which it stands. The luxurious hideaway features hand-hewn timbers, oversized stone fireplaces and mighty trunks of 40-foot white pine trees towering from floor to ceiling in the Main Lodge. Luxurious meeting and event venues located at water's edge are ideal for corporate retreats, social events and lavish destination weddings. Harmonizing with nature, its serene spa offerings will also include some of the most desirable wellness services.
The opening of The Chatwal Lodge is part of a larger economic development plan for the town of Bethel, New York. Within this beautiful swath of the Catskills, located just 90 miles from midtown Manhattan, the wilds of nature are discovered in everyday life. The Chatwal Lodge is located within The Chapin Estate along the shores of Sullivan Country's two largest lakes. Named as one of the 'top 10 regions to visit in 2019' by Lonely Planet, the Catskills and Sullivan County have seen an increasing number of visitors due to its vast recreational activities, as well as growing arts and culture community. The Chatwal Lodge is expected to generate tax revenue and create new jobs, while also offering the growing residential and business communities a new reason to work and play in the countryside destination.
With 18 hotels open today and 20 new locations currently in development worldwide, Dream Hotel Group is on track to triple its existing portfolio by 2022. The groundbreaking of The Chatwal Lodge signals another exciting milestone in the continued growth and evolution of the company and its portfolio of lifestyle brands.
Source de l'article : https://www.hospitalitynet.org/announcement/41002120/the-chatwal-lodge.html