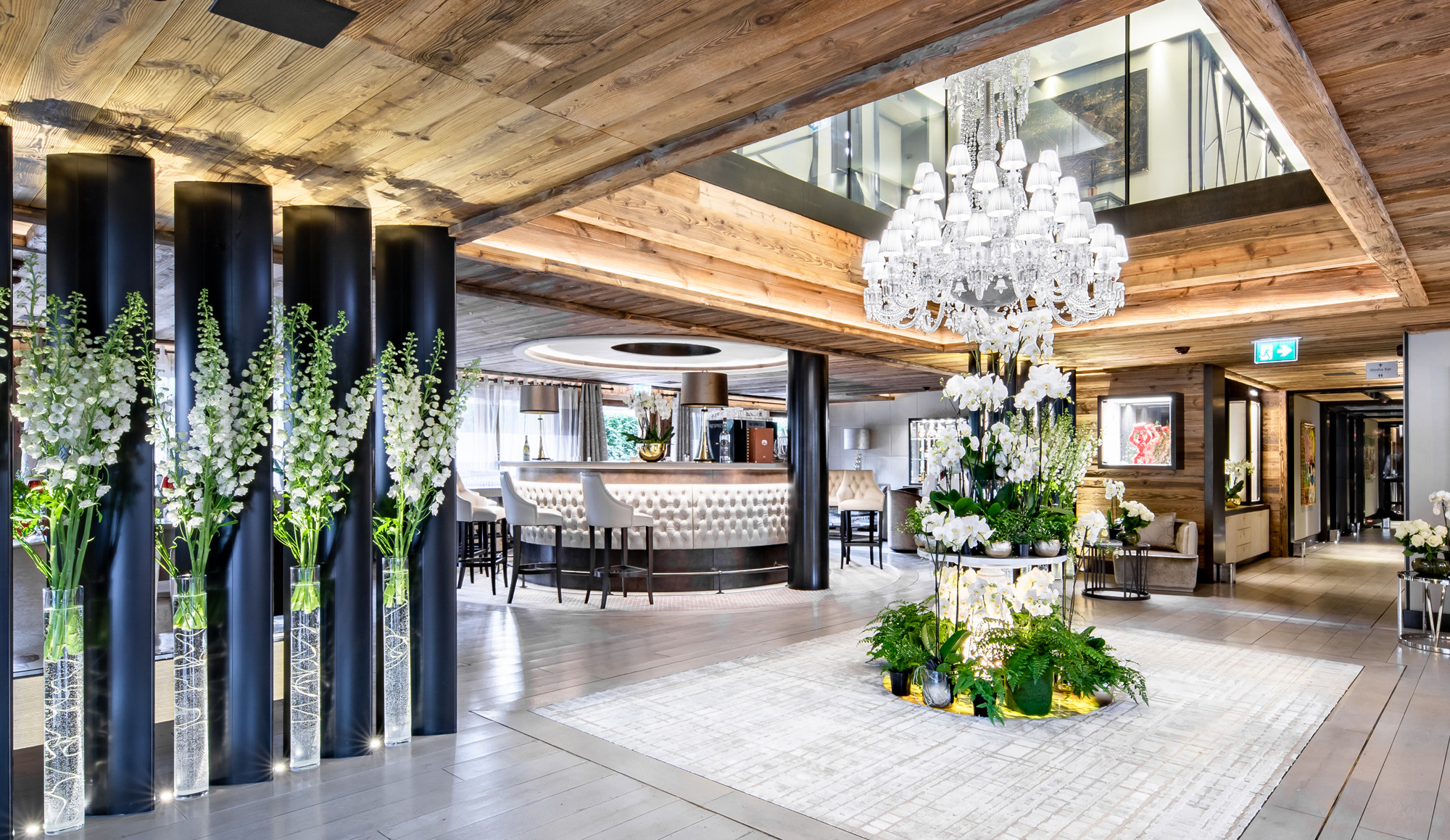 In only three years of existence, the Ultima Collection managed to impose its venues as the new must-see destinations in terms of experience and uniqueness. Its eponymous hotel, located in the very sought-after resort of Gstaad, was repeatedly awarded last year and ranked among the 10 most beautiful Swiss hotels by the very popular classification Condé Nast Traveller. Initially, what strikes most is the design, instantly recognizable by its powdered colours, the golden matte of the bronzes, perfectly combined with the raw woods to create a refined, yet warm and rare atmosphere. The preciosity of the raw materials used (leathers, marbles,…), as well as the quality of the resort's services, are also astonishing. Jean-François Colloud, the group's head of human resources, discussed with Vendom the attributes that make the group unique in today's luxury accommodation landscape and his expectations about talents.
Ultima Geneva
Vendom.jobs – What made you choose human resources?
Jean-François Colloud – My career began more than 30 years ago, within hotel operations, and my desire to pursue a career in human resources grew along with my professional experiences and with rubbing shoulders with people of various origins and different trades. In the hotel and catering industry, the approach of human potential is so formidable that I could not consider any other outcome – I truly embrace a passion for this trade and vocation for excellence. We deliver a great part of dream in the jobs we offer, even the most difficult, thanks to venues, products and customers that take you along in a real human adventure.

V. J. – Relational qualities are of primary importance in the luxury hospitality sector. How do you approach candidates during a recruitment process? What do you seek in future collaborators? What are the qualities they have to provide?
J. - F. C. – What we seek above all are beautiful personalities, far off from proven competences in the luxury industry, and they lie in authenticity, as well as in the "lifestyle" side of every person. For our establishments, it is important to provide a unique customer experience. To that end, our collaborators must somehow have a "unique" identity. Human warmth and empathy are capital in a relationship with a client. A candidate who succeeds in surprising us during an interview will have all the opportunities to join us in this adventure…
Ultima Crans-Montana

V. J. – In that respect, what advice would you give future candidates?
J. - F. C. – Be yourself and be ready! It is very important to know yourself and prove your motivation to us, in other words, the reason you applied to integrate our teams. Nothing is more disappointing than a candidate who ignores why he or she chose our group. Surprise us!

V. J. – Ultima Collection presents a completely exceptional concept, each destination seems to have its own nature in order to create the surprise. Could you explain the peculiarities of these destinations?
J. - F. C. – All our properties are unique products. We always seek the exceptional in order to surprise our customers and remain in the codes of the brand. Our emblematic hotel in Gstaad only offers 11 suites and 6 residences but gives our customers all the intimacy of a private country cottage with the services of a palace. Also in Switzerland, we recently opened Crans-Montana with two sumptuous chalets that can be both privatised and that offer an high-end luxury atmosphere in a private park with a lake, sheltered from view. In Megève, our private chalet belongs to the most luxurious country cottages of the area with out-of-the-ordinary services, such as a helicopter landing area on the property or an amusement arcade with game simulator. Our first concept of villa will open its doors next June in Geneva. Built in a Californian style, the villa will feature a 12-seat teppanyaki restaurant in its basement, as well as a garage that can accommodate up to 10 cars. Next December we will open in Courchevel our largest project with a resort featuring 13 private lodges, a restaurant, 2 spas and a cinema.
Ultima Courchevel (opening Dec. 2019)

V. J. – On the other hand, how would you present the DNA of the Ultima Collection? What makes its destinations so identifiable?
J. - F. C. – Our ADN permeates the interior design, as well as our exclusive services. All the properties we created have a strong character, but still preserve the emblematic codes of the brand. Each of our destinations features a mix of bronze, nubuck and leather. All our destinations include a spa, an entirely equipped fitness centre, or a cinema. We also propose a 5-star hotel service with a butler, a cook, a housekeeper, a driver, therapists or the services of our private clinic, all of them upon request.

Ultima Megève
V. J. – What are the recruitment challenges for this company?
J. - F. C. – There are a number of challenges as we must attract talents. Our main challenge is to succeed in proposing something else to our collaborators, namely an enriching experience in unique venues. We are interested in profiles from the yachting sector or from private villas. Our offer must be supplemental and different, with all the more reason as our product is seasonal.

V. J. – What about its future developments?
J. - F. C. – That is our little secret... We wish to keep a certain confidentiality regarding our next openings. However, there is no doubt that new destinations will rapidly be added to the collection.

V. J. – What is your personal luxury? Your personal idea of luxury?
J. - F. C. – To me, luxury is beauty, elegance and, in a way, also simplicity… Simplicity in something unique that makes it marvellous.
Photo credit: Ultima Gstaad