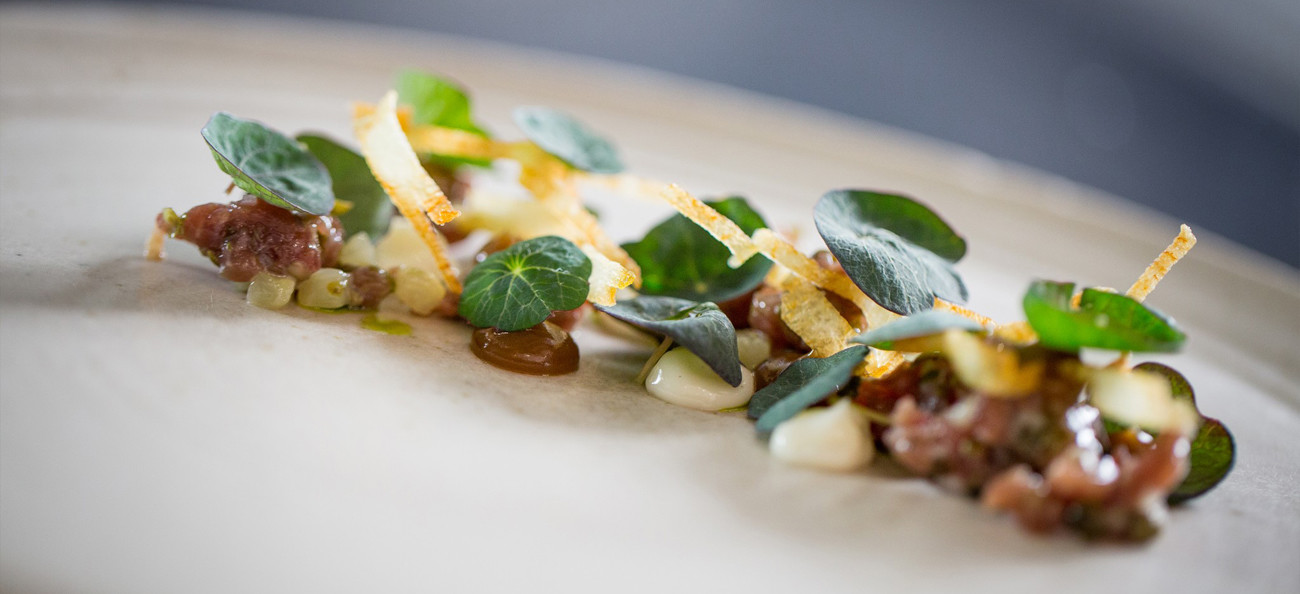 Crédit photo : Sat Bains
Restaurant Sat Bains named fourth in world and the UK number one
Nottingham's Restaurant Sat Bains has been named the fourth best-rated restaurant in the world according to the 2018 Travellers' Choice awards, announced today by TripAdvisor. As well as finishing up fourth in the world fine dining restaurants rankings, Restaurant Sat Bains tops the UK top ten in this year's awards, ahead of Adam's in Birmingham and Raymond Blanc's Belmond Le Manoir Aux Quat'Saisons in New Milton, Oxfordshire which take second and third place respectively. Adam's in Birmingham also places sixth in Europe and eleventh in the world, while Le Manoir Aux Quat'Saisons claims eighth in Europe and fifteenth in the world.
Chef Sat Bains
It is the first time Sat Bains' self-titled Nottingham restaurant has topped the UK rankings in the Travellers' Choice Awards for Restaurants, having taken sixth place in 2014 and second place in 2015. The restaurant which offers a seven or ten-course tasting menu, was awarded a Michelin star in 2003, becoming the first restaurant in Nottingham to win one. It has since received a second Michelin star. Dishes on the menu include baked potato smoked over embers with caviar, chicken royale with pain d'epices and popcorn and braised oxtail with truffle and beetroot.
"Based on millions of reviews posted over the past year, these awards are a true mark of excellence. With three UK restaurants named among the world fine dining top ten this year, the UK continues to cement itself as one of the biggest players in the global gastronomy scene," commented TripAdvisor spokesperson, Hayley Coleman.
The coveted title of number one restaurant in the world goes to Au Crocodile in France. Located in the city of Strasbourg, the restaurant holds a Michelin star under its head chef, Franck Pelux. Dishes on the menu include roasted fillet of venison, beets and pepper sauce, pike perch poached, potato mousse and sauerkraut extraction and sea bream in a bread crust, candied celeriac and smoked beurre blanc.
The Travellers' Choice Awards honour travellers' favourite dining establishments worldwide, based on the millions of valuable reviews and opinions on TripAdvisor. Award winners were determined using an algorithm that took into account the quantity and quality of reviews for restaurants around the world, gathered over a twelve month period.
For the first time ever in the Travellers' Choice Awards for Restaurants seven year history, in addition to the Fine Dining category, this year sees the introduction of Everyday Dining. This category awards restaurants that provide great meals for any occasion, designed to surface the UK's best-rated restaurants to go with friends or family without breaking the bank.
Taking the UK's top spot is Edinburgh's Makars Gourmet Mash Bar (Mound), serving up variations of the ultimate comfort food – mash potato! Just a short stroll to Edinburgh Castle and the Royal Mile, Makars Mound is blessed with incredible views. Dishes on the menu include wild boar sausage with onion gravy and slow cooked beef skirt with mushrooms and rich dark gravy. There are no less than eight different mash options available, including Scottish cheddar and chive, creamed horseradish and black pudding.
In second and third place are London's The Oystermen Seafood Bar & Kitchen and Iran Restaurant (Shepherd Market).
Travellers' Choice Favourite Fine Dining Restaurants UK:
Restaurant Sat Bains, Nottingham, Nottinghamshire
Adam's, Birmingham, Midlands
Belmond Le Manoir aux Quat'Saisons, New Milton, Oxfordshire
L'Enclume, Cartmel, Cumbria
The Black Swan at Oldstead, Oldstead, North Yorkshire
Waterside Inn, Bray on Thames, Berkshire
Restaurant Nathan Outlaw, Port Isaac, Cornwall
Aizle, Edinburgh
Number One at The Balmoral, Edinburgh
Restaurant Martin Wishart, Edinburgh
Travellers' Choice Favourite Fine Dining Restaurants Europe:
Au Crocodile, Strasbourg, France
Martin Berasategui, Lasarte, Spain
El Celler de Can Roca, Girona, Spain
Restaurant Sat Bains, Nottingham, United Kingdom
Ristorante Villa Crespi, Orta San Giulio, Italy
Adam's, Birmingham, United Kingdom
Restaurant Christopher Coutanceau, La Rochelle, France
Belmond Le Manoir aux Quat'Saisons, New Milton, United Kingdom
Ristorante Lido '84, Gardone Riviera, Italy
Epicure, Paris, France
Travellers' Choice Favourite Fine Dining Restaurants Worldwide:
Au Crocodile, Strasbourg, France
Martin Berasategui, Lasarte, Spain
El Celler de Can Roca, Girona, Spain
Restaurant Sat Bains, Nottingham, United Kingdom
Restaurante Benazuza, Cancun, Mexico
La Colombe, Constantia, South Africa
TRB Hutong, Beijing, China
Ristorante Villa Crespi, Orta San Giulio, Italy
The Grove, Auckland Central, New Zealand
David's Kitchen, Chiang Mai, Thailand
Travellers' Choice Everyday Dining Restaurants UK:
Makars Gourmet Mash Bar (Mound), Edinburgh
The Oystermen Seafood Bar & Kitchen, London
Iran Restaurant (Shepherd Market), London
Mother India's Café, Edinburgh
Paesano (Miller St), Glasgow
Lambs Restaurant, Stratford-upon-Avon
Food for Friends, Brighton
Sotto Sotto, Bath
La Lanterna, Glasgow
Holohans At The Barge, Belfast
Source de l'article : https://bit.ly/2BOu7Va