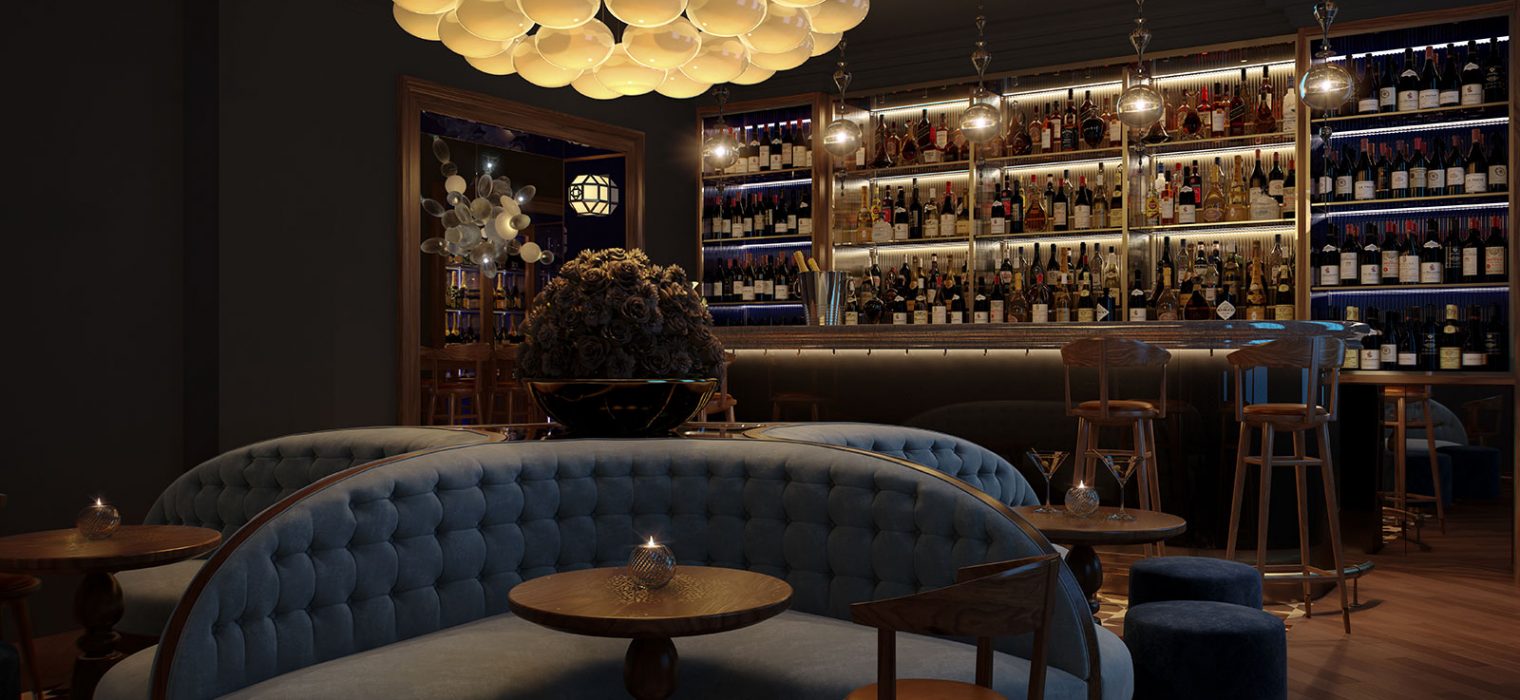 Crédit photo : GNH
Great Northern Hotel, the King's Cross luxury boutique hotel, is set to open the area's first martini lounge this autumn. Located on the hotel's first floor with breathtaking views of George Gilbert Scott's iconic St Pancras clock tower, Anthracite will build upon the timeless elegance and dedication to quality for which the Great Northern Hotel has earnt its name, whilst offering a new layer of glamour, seduction and depth.
The 90-cover, three-roomed lounge has been developed by Archer Humphryes – the architects behind the mesmerising 2013 redesign of the Grade II listed Italianate Victorian hotel – and takes inspiration from the colour and unusual properties of the coal from which it takes its name. Drawing upon the hotel's railway heritage, anthracite was previously used for fuelling trains and is a high-density coal that burns with a blue, and smokeless flame. This is reflected in the lounge's charcoal colour palette, brought to life with submetallic details and electric blue trims.
Sultry and seductive by night, Anthracite is a place to entertain clients, or bring your partner for a memorable evening of escapism and indulgence. By day, the theatrical space benefits from floor to ceiling large windows that provide an abundance of natural light, perfect for hotel guests looking to relax, or quiet business meetings.
A bespoke selection of intricate portraits by Sky Arts Portrait Artist of the Year 2017, Gareth Reid, will line the walls and provide depth to the space – a coveted addition to the hotel's already extensive art collection.
To drink, martinis will take centre stage, with an extensive and carefully curated selection of vodkas, gins and vermouths for guests to create a bespoke martini, expertly mixed by head bartender Balazs Nagy and team. Alongside favourite martini cocktails such as the Espresso and Breakfast Martini, bespoke Anthracite twists will feature, including serves such as the Coastal Martini made from Samphire infused gin, cured lemon infused Mancino extra dry, black pepper tincture, pumpkin, chilli oil and a garnish of seaweed crisp. For the non-Martini drinker, there will be a selection of classic and more unusual cocktails alongside a wide-ranging menu of perfectly served Gin & Tonics.
Owner-operator, Jeremy Robson says of the opening, "Standing at the gateway to the newly regenerated King's Cross, I wanted to bring something to the area that builds upon the Great Northern Hotel's timeless elegance, whilst offering a darker edge of glamour and subversion. A sophisticated and alluring drinking destination, Anthracite will serve visitors and Londoners alike."
Bringing a sense of glamour and sophisticated decadence, Anthracite will be a welcome addition to King's Cross' ever-thriving food, arts and music scene.
About the Great Northern Hotel:
Great Northern Hotel is located in the heart of King's Cross St Pancras, an area that has undergone a remarkable renaissance in recent years. Close to King's Cross station and just 25 metres from the Eurostar terminus at St Pancras International, the hotel is a carefully crafted celebration of original Italianate Victorian architecture with a hint of modernity and sense of timeless elegance.
Originally built by the Victorian master architect Lewis Cubitt in 1854, today the hotel is an iconic landmark. Befitting the hotel's rich architectural heritage, the guest bedrooms are beautifully designed to exude elegance and grace. Free from unnecessary clutter, the rooms are expertly proportioned, with lofty high ceilings and an abundance of natural light from large "six-over-six" sash windows.
The hotel is home to one of London's finest destination restaurants, Plum + Spilt Milk, which celebrates high quality, seasonal produce through its modern British dishes. On the ground floor sits GNH Bar, one of the most glamorous bars in London, with a stunning interior.
Source de l'article : https://www.saucecommunications.com/news/great-northern-hotel-set-open-anthracite-kings-cross-first-martini-lounge/