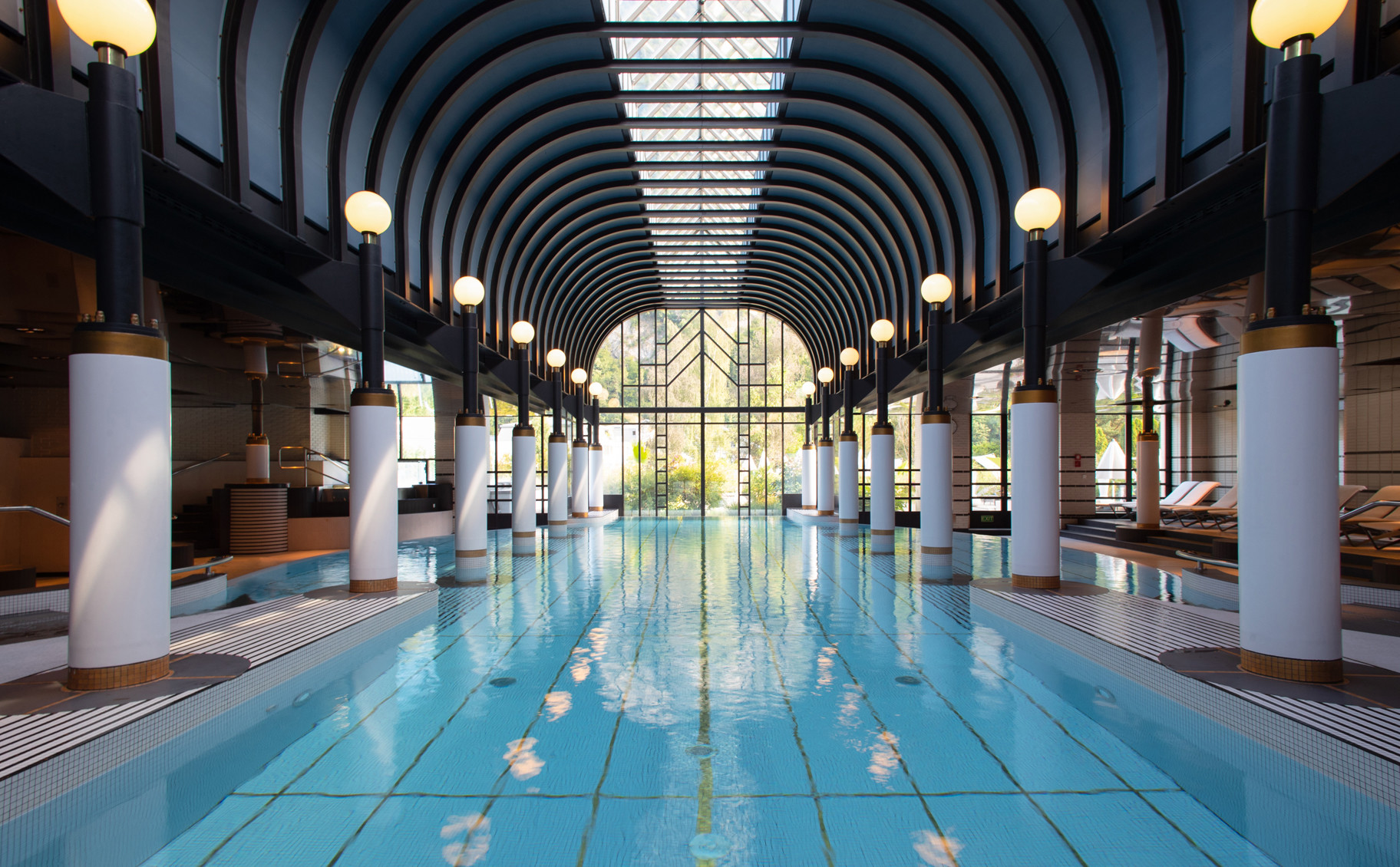 In the impressive and colourful surroundings of Jungfrau stands out the elegant and imposing structure of a 5-star hotel, the Victoria-Jungfrau Grand Hotel & Spa. In this holiday haven dedicated to wellbeing, Nescens Care deploys its exclusive expertise within a splendid 59,000 ft2 spa. The Nescens concept emerged more than 15 years ago from the vision of Pr. Jacques Proust, a pioneer in the field of the biology of ageing and anti-aging medicine. Nescens spa director, Hans-Peter Veit, explains to Vendom.jobs why Nescens care and its cross-functional teams offer adapted and thoroughly customizable programmes in this high-end environment, with state-of-the art treatment techniques in physiotherapy, nutrition and coaching amongst others.
Vendom.jobs - Could you tell us about your early career and how you became interested in the spa industry?
Hans-Peter Veit - I joined the spa industry 20 years ago by accident. After graduation at the University of Munich for Sports and Health Science in 1997, I worked in a rehab center in Bavaria, but was not entirely satisfied with my job. Through the Internet, I came across a job offer for a personal and medical trainer for guests and patients in a famous hotel in Baden-Baden, the town where I grew up. I managed to get the position and had the chance to learn the spa business as the famous and iconic spa director Peter Droessel's right hand man. The variety of his work was fascinating – I realised that we were there to make things happen and to make our guests happier, fitter and healthier. I was lucky enough to travel around the world, visit other famous spas, and meet great personalities as a mystery judge for the famous Gala Spa Awards. After two decades, it is still the best job in the world.
V.J - What are the duties of a Spa Manager in such a luxurious destination?
H.-P. V. - First of all, a spa manager is the head coach of the team and has a dual role: team member and team player. The duties of a spa manager is to make the team members happy and respect their wishes and needs and their personal work/life balance. Vigilance is essential in order to treat everyone fairly, but not equally. If you get more, you have to give more. Secondly, a spa manager in a luxurious destination should not follow trends, but develop them instead. The spa industry is still a fast business, clients become more and more professional, expectations rise and change. A close attention must be paid to what clients want and what they do not want. Thirdly, a spa manager, like a GM, is a host for the guests and must possess certain skills – anticipation, independence, open-mindedness – besides having a natural inclination to love people and not being too revenue-driven.
V.J - Who are your customers? What are their expectations regarding their stay?
H.-P. V. - At VICTORIA-JUNGFRAU, our clients are 50% Swiss and 50% international. Most foreigners come from the Middle East, the US, India and China. Swiss guests come mainly because of the spa and F&B offers, the FIT are on holiday and enjoy the nature around Interlaken. Our spa guests do not come here because of the spa – there are thousands of excellent spas around the globe. However, once they are here, they really enjoy the spa services we offer. On the other hand, the implementation of our better-aging programmes for detox or weight loss attract more and more clients from all over the world: we are able to provide our clients with great results while giving them a great time – lose weight with great food and get fit with motivating exercises, in combination with a luxurious holiday experience.
V.J - Could you present us the wellness offer and the holistic approach of Nescens treatments, and more specifically the better-aging programme?
H.-P. V. - A healthy body needs a healthy mind – people drown in too much sorrow and problems…I still remember these wise words from the Dalai Lama at the GSWS in India a few years ago, and I completely agree: the body cannot be treated independently from the mind and soul. They are all interconnected; every part depends on the other. Our approach is holistic, BUT also very specific. As mentioned earlier, in order to be sustainable, our offers and recommendations have to be EASY, JOYFUL and EFFECTIVE. Our programme is customized for every client and carefully adapted to individual preferences, wishes and needs.
V.J - How do you work to this end with the chef of the hotel?
H.-P. V. - I work very closely with our Executive Chef Mr. Stefan Beer, who is a great artist with a 10-year experience all over the world. He shares the Nescens philosophy and composes wonderful menus that one can hardly recognize as diet food. Carefully selected products from Swiss bio-farmers (over 90 % are bio-certified) are served with an international style and feature an unbelievable taste. It has never been so easy and tasty to follow a low calorie diet.
V.J - In what way is it an innovative and specific approach? How can you stay at the top in this field?
H.-P. V. - Professional sportsmen will do everything their coach tells them: train in the earliest morning hours, eat horrible food, and torture themselves… just to win the game. Our clients are very far from this approach. They have money, but their mind can be weak. Therefore, to stay fit has to be as much easy and joyful as possible in order to keep them on track.
V.J - Do you work with external partners? If so, which ones and why?
H.-P. V. – No, we do not.
V.J - How do you see the increasing need of body treatments? According to your own experience, what could be the next developments?
H.-P. V. – As I mentioned earlier, today, our spa guests are mature, and will be even more tomorrow. They have been attending spas for years and know exactly what they want, what is good and what is bad for them. They are the real experts of the industry and are no more willing to pay hundreds of euros simply for a pleasant massage. The clients of the future will want more and more effect, they want to feel what they experience and see results. All this combined with a luxurious and serene environment; I believe that personal trainings and emotional balance and coaching will grow in importance – we have to invest in our staff in order to be one step ahead of our clients.
https://www.victoria-jungfrau.ch/en/spa-nescens
(Photo credit: Victori Jungfrau)