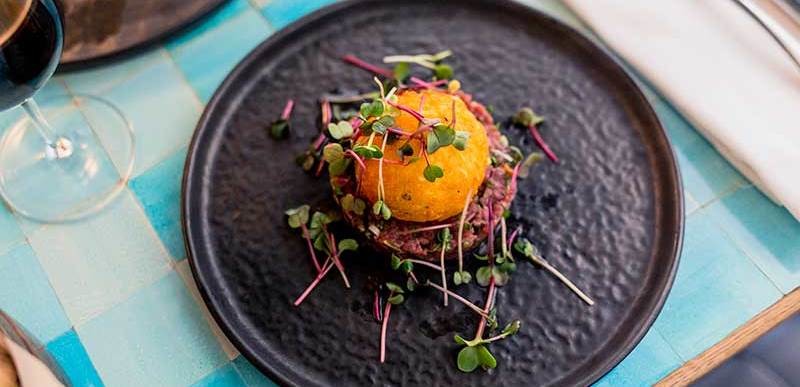 Crédit photo : YENI LOKANTA
From the banks of the Bosphorus, critically acclaimed Yeni Lokanta will bring the food and culture of Istanbul to Soho. Founding partners – Cem Bilge and celebrated chef Civan Er – will be opening their new restaurant, Yeni, on Beak Street in mid-January. They will introduce London to the flavours and culinary traditions that reflect Istanbul's rich heritage as the meeting point of Asia and Europe.
Upon opening in 2013, Yeni Lokanta quickly garnered a cult following with Civan's menu infusing modern sensibility with ingredients and dishes that could only come together in Istanbul, from the koftes and street-food stalls of the city's markets, to traditional meyhanes where seasonal fish and vegetables are served alongside wine and raki. 'Yeni Lokanta' which translates to 'New Eatery', quickly established itself as one of the city's top, award-winning restaurants, with Civan being awarded GQ and Time Out's Chef of the Year in 2014.
Six years on, and with its cult status cemented in Istanbul, Yeni will bring the original restaurant's signature style to London. Influenced by Istanbul's rich food culture and the famed Silk Road, Yeni draws influence from the different ethnicities that unite on the streets of Civan's hometown. These various influences inspire vegetable dishes including 'zeytinyagli', an Aegean method where vegetables are braised in olive oil; aubergine filled manti with goats' yoghurt; as well as fish and meat options such as traditional Antep sausages with borlotti bean puree; and line-caught bass with raki and feta. Larger plates of Yeni's famed oven-roasted ribs with isot pepper on sourdough with cracked wheat, sour cherries and sumac molasses and octopus with 'salty fingers' will be prepared on the charcoal josper grill.
On the dessert menu there will be; kadajifi covered custard fritters and smoked buffalo milk ice cream; and salted caramel panna cotta with pumpkin. The cocktail menu is as eclectic as Istanbul's inhabitants with cocktails infused with traditional spirits such as raki and ingredients like isot pepper and mahalep cherry.
Yeni Beak Street, will showcase the finest artisan craftsmanship of Istanbul's designers. With Levantine tiles featuring their signature floral motif and hand blown glass chandeliers from craftsmen all across Istanbul, Civan has worked closely with home-grown designers to commission pieces that will bring a true touch of Istanbul to his new home. Nile-sea green tiles top the tables and the solid Onyx wall behind the bar reflects the soft glow of the old market town inspired lanterns.
Civan says 'For me, it's exciting and humbling to be able to bring Yeni to the city where my professional journey began. Yeni looks forward to inviting London to feast on our take on Istanbul's style.'
Source de l'article : https://www.hospitalityandcateringnews.com/2019/01/istanbuls-yeni-lokanta-open-yeni-soho/