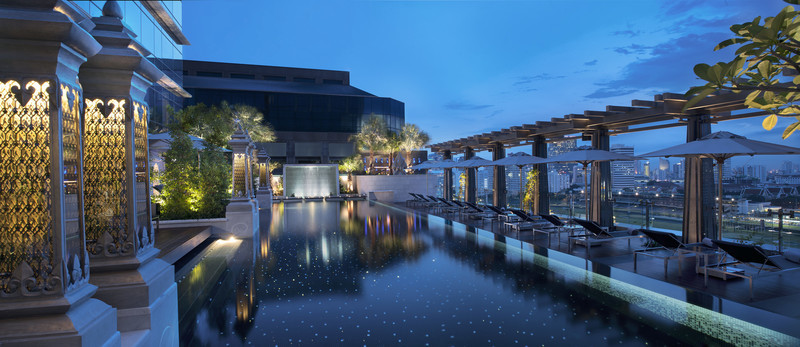 Crédit photo : St. Regis Bangkok
The St. Regis Bangkok has created a new signature offer pairing a hidden gems exploration of Bangkok with insider access to cultural attractions, plus an evening of chef-cultivated Thai dining in the newly enhanced Owner's Penthouse.
In addition to activities and dining, the package includes accommodations in the two-story, three-bedroom Penthouse located on the highest floor of The St. Regis Bangkok, 44 stories above street level. Floor-to-ceiling windows throughout the 8,600-square-foot residence reveal panoramic views and newly updated Asian décor and art sourced from around the globe, combined with contemporary touches, fill the living space.
Exploring Bangkok
Personally guided by a local expert, the package includes a journey exploring the hidden gems of Bangkok. The day starts with a tour of Pak Khlong Tala, the largest flower market in Bangkok. Following an exploration of the outstanding 16th century Wat Pho (Temple of the Reclining Buddha), a lunch is enjoyed at the Err restaurant. The menu offers urban rustic Thai cuisine deeply rooted in Thai culture, including street food and single plate dishes.
A traditional tuk tuk brings guests to the afternoon highlight of exclusive insider access to the Queen Sirikit Museum of Textiles featuring the "Fit for a Queen" exhibition, including more than 30 of Her Majesty's dresses and accessories that have never before been on display. A meeting with the Museum's curator gives deeper insight into the exhibit, which focuses on the 22-year relationship between Her Majesty Queen Sirikit and French couturier Pierre Balmain.
Private Dining Experience
An additional experience included in the package is an exclusive Thai-inspired dinner created by Executive Chef of The St. Regis Bangkok, Chris Miller. Set family style in the dining area of the Penthouse, guests are served a four-course meal that highlights traditional and local Thai ingredients, including Grilled Wagyu Rib Eye with Fresh Pomelo and Peanut; Spicy Rich Red Curry with Roasted Crisp Duck and Caramelized Pineapple; Chilled Mango Kelly and Coconut Infused Parfait.
Penthouse Living
The Penthouse has an array of memorabilia and antiques. Presenting an expression of east meets west, four costumes originally worn by Oscar-winning actor Yul Brynner in the Broadway musical "The King And I" adorn the walls. This memorabilia is displayed in the Penthouse as a nod to the actor's career. Another rare item is an antique large-format camera invented and used by Eberhard Schneider, an early inventor of the motion picture camera; this piece is in the living quarters of the Penthouse.
Additional art pieces include a hand-formed cinnamon bowl made of thousands of cinnamon sticks by a Japanese artist, which illustrates traditional Asian craft techniques, as well as a sterling silver hippopotamus created in a tribute to the animal kingdom.
The three-bedroom Penthouse has a balcony with a private, 23-foot infinity pool overlooking the city skyline. The private dining room with a view of Bangkok's famous Sukhumvit stretch is ideal for dinner parties accommodating up to 16 guests and is adjacent to a modern kitchen stocked with produce and choice ingredients from the residence market list.

A wine room offers a selection of old and new world vintages specially chosen by the house sommelier from the hotel's cellar. A private exercise room offers far-stretching city views, while a private spa therapy area offers Elemis Spa treatments.
Bespoke 24-hour St. Regis Butler service includes two personal butlers ready to cater to a guest's every need. From packing and unpacking services to serving in-residence breakfast or making arrangements for a fully catered dinner party, no request is too big or too small.
Pricing for the Owner's Penthouse package begins at $9,500 per night.
Source de l'article : https://www.luxurytraveladvisor.com/hotels/st-regis-bangkok-announces-new-package