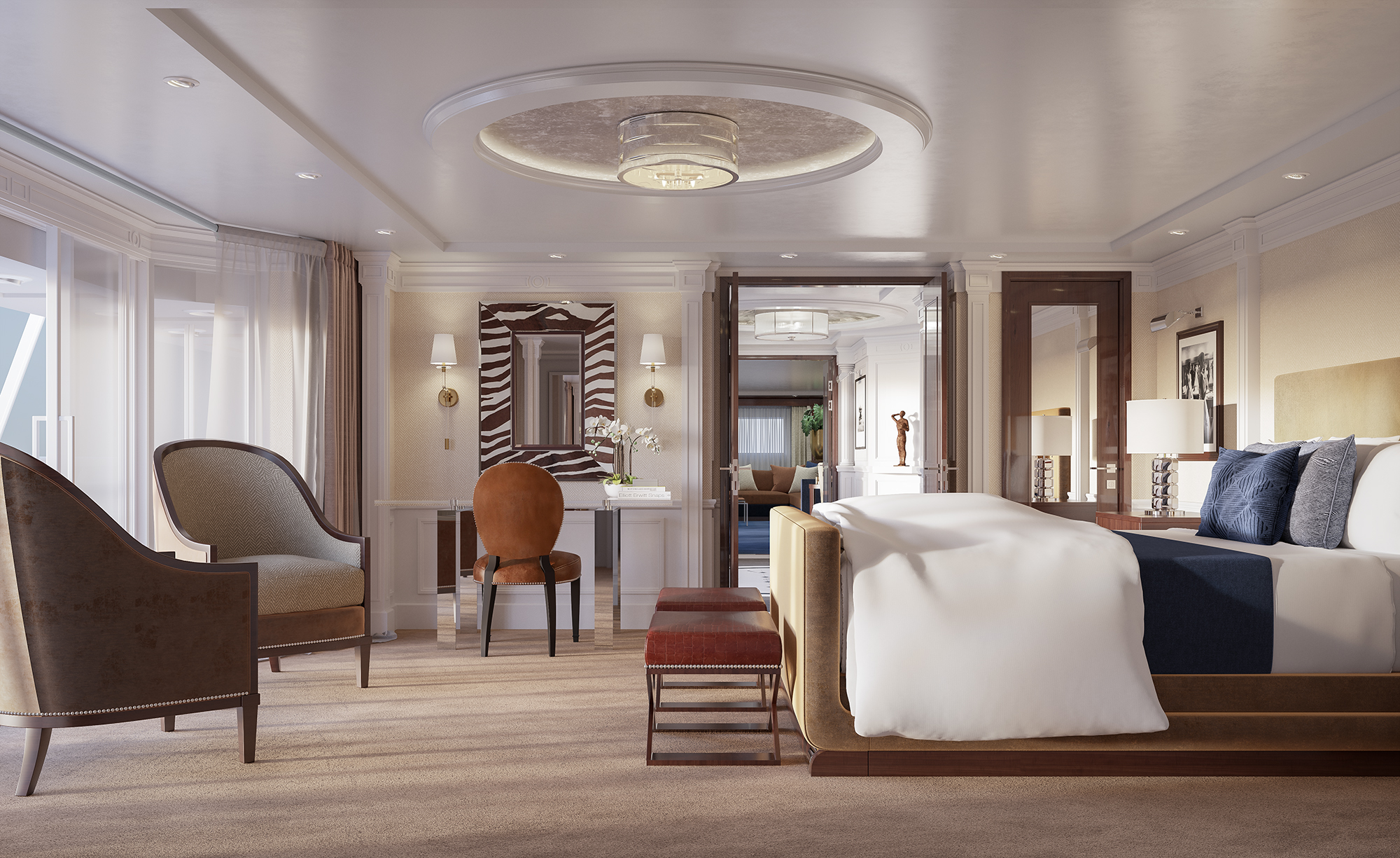 Crédit photo : Ocean Cruises Marina and Riviera
Oceania Cruises has unveiled the first of many exciting enhancements coming to the line's 1,250-guest ships Marina and Riviera: an altogether new generation of Owner's Suites furnished exclusively with Ralph Lauren Home.
"The Owner's Suites furnished exclusively with Ralph Lauren Home are signature elements of our brand and truly iconic.
"As we are always looking for ways to elevate the guest experience we took the opportunity to completely re-master these suites and provide our guests with an entirely new experience.
"Everything from the furnishings to the artwork is new, and guests will feel as though they are sailing aboard one of the world's most glamorous yachts or living in an opulent estate home," stated Bob Binder, president, Oceania Cruises.
Sporting a colour palette that is quintessentially Ralph Lauren, the suites are resplendent in navy, white, crème and camel. Fabrics and upholstery are a mélange of solids and stripes, with pops of metallic, silver and gold.
Attention to detail is paramount and the rooms are layered in a way that only a Ralph Lauren room would be dressed.
Even details such as the red, white and blue striped fabric selected for the outdoor cushions on the suites' verandas harken back to Lauren's label as America's designer and reminding us of his charitable work in restoring the Star-Spangled Banner at the Smithsonian in Washington DC.
Guests will enter through the foyer with a limestone and black cabochon inset floor, walls of inset Georgian wood panelling and a mahogany and quartzite bar.
Spacious and airy, this grand room features dramatic sea-views from floor-to-ceiling windows dressed in Ralph Lauren Grimaldi-weave sail fabric, along with a self-playing ebony piano that provides the perfect interlude for in-suite entertaining.
The elegant living room is anchored by a new saddle-suede sectional sofa accented with deep navy cushions and accompanied by a mahogany Lounge Moderne chair upholstered in navy and white Super-Yacht Stripe.
The centrepiece of the dining room is the Mayfair dining table with a new Barrett Knurled chandelier overhead.
The master suite, which is an entire retreat unto itself, has taken on an entirely new persona with a new Cote D'Azure king-size bed, elegant Mayfair Bergere side chairs upholstered in Sutton Suede Doe and dramatic nickel-trimmed lighting accents.
Finally, the wraparound teak verandas feature stylish pieces that were custom-crafted by Ralph Lauren Home for Oceania Cruises.
Designed by Los Angeles based Trevor Howells Interior Design, the Owner's Suites reflect Ralph Lauren's passions for sailing, Hollywood glamour and timeless, classical beauty.
"The Ralph Lauren Home furnishings, lighting, fabric and accessories along with the art selection have been carefully curated to highlight the fabled American brand's ever-present mix of modern luxury and timeless style," stated Howells, principal designer and Ralph Lauren alumnus.
Source de l'article : http://www.breakingtravelnews.com/news/article/oceania-cruises-unveils-new-ralph-lauren-inspired-owners-suites/