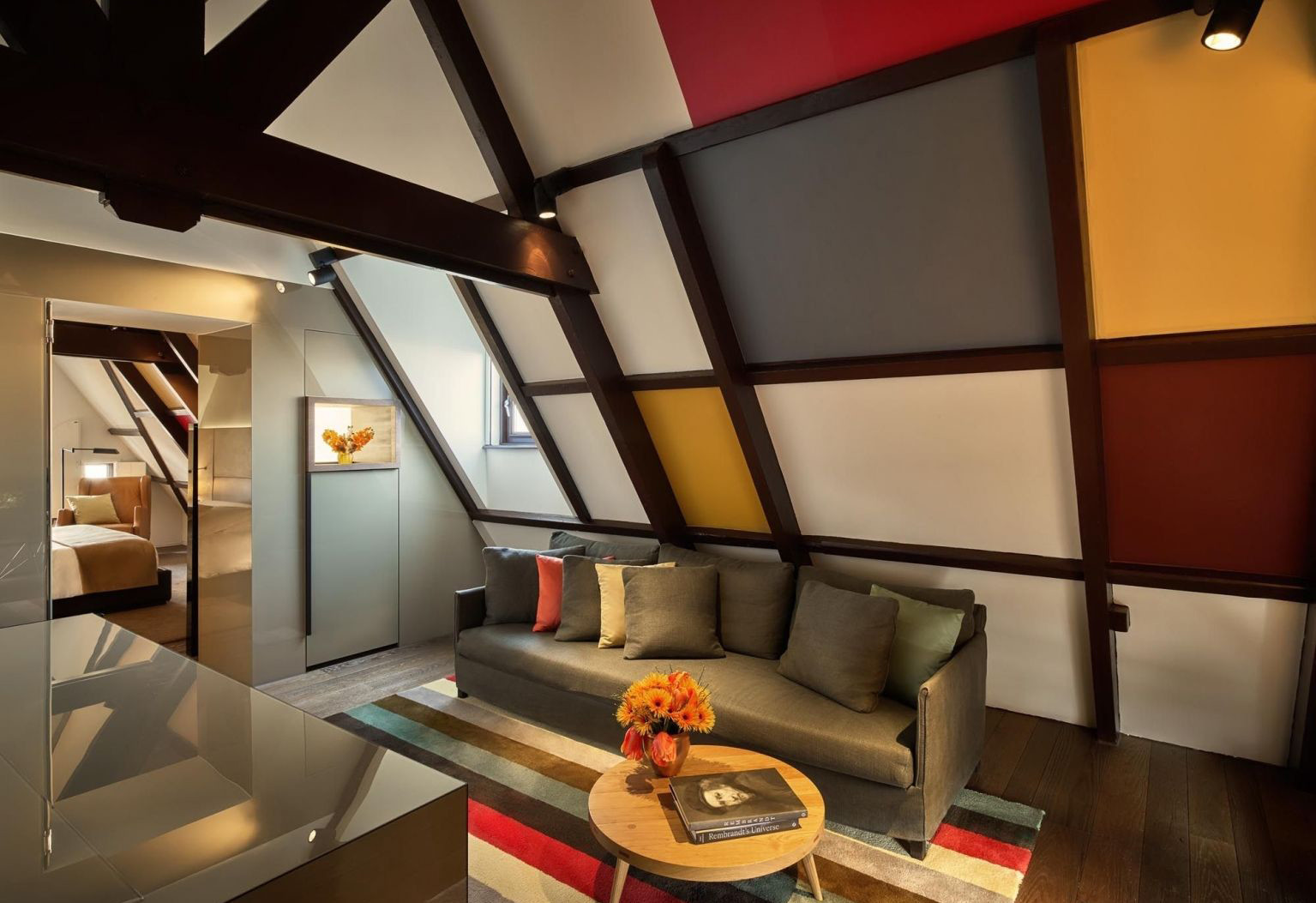 Crédit photo : Conservatorium 
To commemorate the legacy of iconic Dutch artist Rembrandt Harmenszoon van Rijn (1606-1669), Amsterdam's luxurious Conservatorium hotel has partnered with the neighbouring Rijksmuseum to offer a special package that will among other amenities, feature curated artwork in a special suite reminiscent of the Rembrandt's masterpiece, The Night Watch. Highlighting the 350th anniversary of the painter's death, the "Art Suite by Rembrandt" package was launched in conjunction with the much-anticipated "Year of Rembrandt" celebration at the Rijksmuseum. Through this package, hotel guests will also enjoy unparalleled access to the variety of exhibitions and special events held at the museum, as well as the option to book a rare VIP tour of the Rijksmuseum's Hall of Fame.
To maximize the guest experience, Conservatorium enlisted the assistance of Dutch designer Irma Boom, who created the colour scheme for the suite's design based on the DNA colours of the Night Watch, as well as renowned Dutch artist Sarah van Sonsbeeck, whose interpretation of "The Night Watch" can be found in the bathroom.
The result of the collaboration is a unique and modern take on the classic masterpiece, and an immersive way for guests to enjoy the work of Rembrandt from the comfort of their luxurious surroundings.
The Art Suite by Rembrandt package includes:
One-night stay in the Art Suite by Rembrandt including breakfast for two guests
Complimentary 'fastlane' access for two guests to the 'Year of Rembrandt' exhibits at the Rijksmuseum
Two sleeping masks featuring Rembrandt's famous work 'Marten & Oopjen'
One copy of the book Rembrandt: Biography of a Rebel by curator Jonathan Bikker
Welcome letter from Rijksmuseum Director General, Taco Dibbits
Conservatorium hotel offers the following premium supplements to the Art Suite by Rembrandt package:
Private after-hour tour of the Rijksmuseum's Hall of Fame (€7500)
Two-hour private walking tour through the city of Amsterdam that takes showcases where Rembrandt lived and worked, and the places that inspired his work (€190)
The "Art Suite by Rembrandt" package is available from €875 per night, including VAT. Offer available from: 1 April – 29 December 2019. For more information, visit www.conservatoriumhotel.com
Source de l'article : https://frama.link/XdvWf_p0