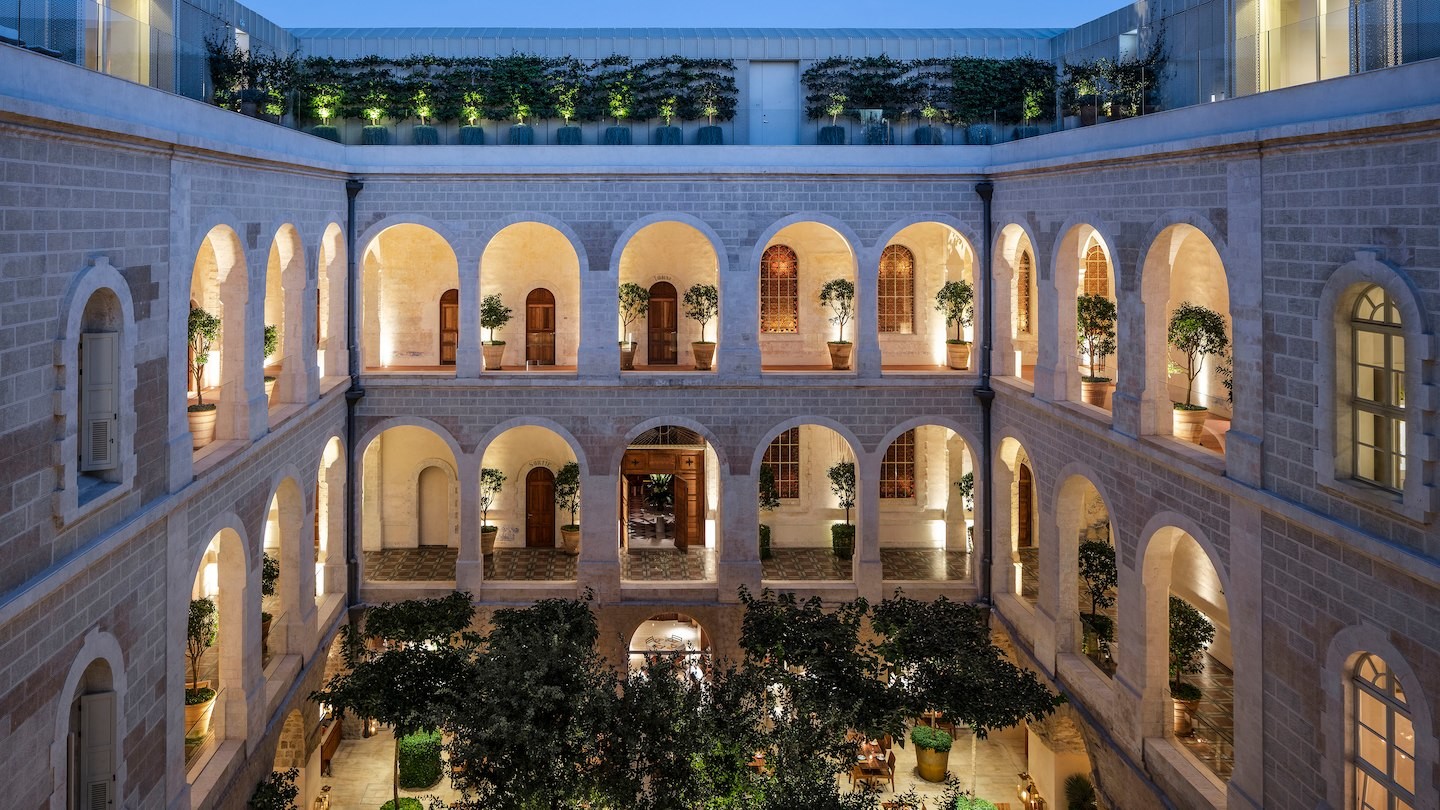 Crédit photo : The Jaffa, a Luxury Collection Hotel
The Luxury Collection Opens in Tel-Aviv
A ten-minute walk from there, up Yefet and beyond the bazaar of stores, takes visitors to imposing historical buildings. One, on the right, opened on Aug. 20, as the 120-room The Jaffa, a Luxury Collection Hotel, Tel Aviv. As its imposing chapel indicates, it was formerly a convent. Hotel owner, Abe Rosen of RFR Holdings, whose portfolio also includes W South Beach, has turned the double-height chapel, now desanctified, into a breathtaking all-purpose room, for pop-up nightclubs and events (imagine doing yoga looking up at frescoed walls inset with four-foot photos of stars who have played significant religious figures, say Richard Burton and Frank Sinatra).
The 40 bedrooms in the original four-floor blocks have 19-foot ceilings. And, once again, there is a rooftop Presidential Suite, a new-build with a professional kitchen and 10-seat dining.
Cleverly, architect Rami Gil has added a new block, with 80 bedrooms, more standard when it comes to ceiling height, but designer John Pawson has given them all-black corridors and windows have white fretted-metal screens, as homage to Middle Eastern mashrabiya screens. Favorite rooms in the new block are sea-facing, looking over local housing, to the Mediterranean about 300 yards away.
Many would choose The Jaffa for its wellness, a serene outdoor pool, Technogym open from 6 a.m., and an L. Raphael spa (opening shortly). Others are drawn by such relics as a medieval wall, uncovered during construction, that extends from the lobby through an all-glass wall to an olive-tree courtyard. The lobby, by the way, is more like an art gallery, with two Damien Hirst paintings worth at least a million (U.S.) each; and two dark bronze, anthropomorphic sculptures by George Condo, a one-time punk musician tutored by Jean-Michel Basquiat.
Source de l'article : https://www.hospitalitynet.org/announcement/41001822/the-jaffa-a-luxury-collection-hotel-tel-aviv.html