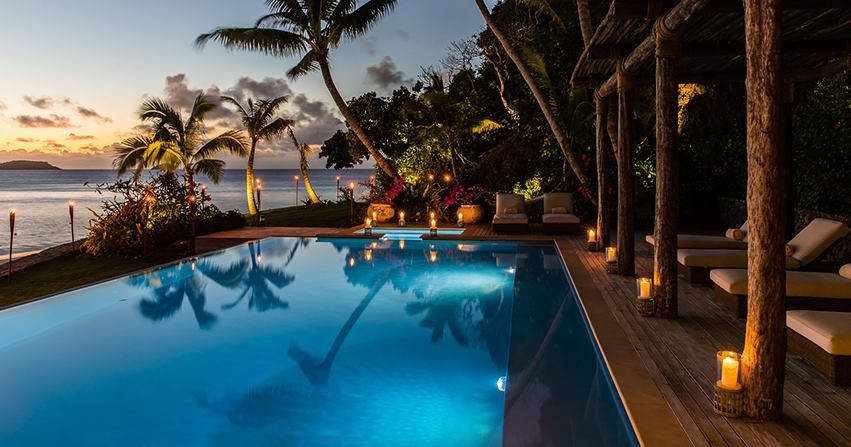 Crédit photo : Kokomo Private Island
Barefoot Luxury: 5 New Beachy Retreats
Want to escape to a remote beachside resort without sacrificing a sand grain's worth of luxury? From the ice-blue waters of the Maldives to the powdery shores of Zanzibar, here are 5 new hideaways with plenty of pampering.
Zuri Zanzibar (Tanzania)
Opened in July, Zuri Zanzibar (above) is the embodiment of exoticism: There are 55 bungalows, suites and villas that straddle the line between jungle and sand. With lush private spice gardens, open-air yoga decks, hammocks aplenty and glass-still seas teeming with dolphins, turtles and tropical fish, you'll feel far from civilization (even though you're only an hour away from the UNESCO World Heritage site of Stone Town).

Start your day with a sunrise meditation with Inka in the yoga pavilion, then go for some breakfast at Upendo where you'll feast on fresh fruit, hibiscus juice and fluffy pancakes; spend afternoons in the resort's airy and arty library or swaying on the hammock of your private terrace; and kick-off dinner with a colorful craft cocktail at Peponi Bar. And don't miss the epic sunsets on Zuri's private west-facing beach.
Wa Ale Island Resort (Myanmar)
Slated to open this fall, Wa Ale Island Resort (above) is the first luxury property to introduce Myanmar's gorgeous Mergui Archipelago to the world. Previously closed to tourism, this collection of 800 islands is the stuff of pure fantasy. Boasting castaway vibes and bohemian décor, Wa Ale is an ideal base to explore this uncharted territory.
Kokomo Private Island (Fiji)
If peace and privacy are what you're after in a beach vacation, look no further than Kokomo, the private island retreat in Fiji that opened in the spring of 2017. With green and wild jungles of waterfalls and exotic birds and tropical reefs right outside your door, there's plenty of adventure to be had by way of diving, deep-sea fishing, trekking, and surfing.
Habitas Tulum (Mexico)
Having been open for about a year, Habitas Tulum (above) has already made a name for itself in the chic hippy haven of Tulum. With interiors centered on local hardwood accents layered with artisan pieces, this is a true haven for free spirits.
Joali (Maldives)
The Maldives is home to many barefoot luxury retreats, and Joali, slated to open October, is bringing more of that sustainable-but-sophisticated glamour to its islands and atolls. Celebrating craftsmanship and creativity, the architecture and art-filled interiors by Autoban and Tokyo-based Studio Glitt are at once refined and welcoming. And the views? They're picture perfect.
The World's 50 Best Bars for 2018
Talk about going out on top.
London's Dandelyan was named the No. 1 bar at the World's 50 Best Bars awards—just days after Ryan Chetiyawardana announced via Instagram that his much-acclaimed four-year-old bar is closing. (Dandelyan also won World's Best Cocktail Bar at last year's Spirited Awards and took second place at last year's World's 50 Best, after first entering the list in 2015.)
And while the bar (above) may not be open for much longer, Chetiyawardana assured customers that he's reopening a completely new concept within the same space.
Two other nominees in the World's Best Cocktail Bar category were also popping Champagne. Melbourne's Black Pearl was named Best International Cocktail Bar, Washington D.C.'s Columbia Room won Best American Cocktail Bar and New York's NoMad Bar was crowned Best Bar in North America.
Once more, London dominated the World's 50 Best Bars awards with an impressive ten wins. Starting with the American Bar (below) at No. 2, being dethroned by Dandelyan as No. 1 , there seemed to be a lot of movement in terms of rankings. The Connaught, for instance, has dropped one spot (from No. 4 in 2017 to No. 5 in 2018). Bar Termini has moved up a few notches to No. 6. And Happiness Forgets dropped steeply (from No. 12 last year to No. 35 this year).
In Asia, Singapore is moving up, claiming five spots—including Manhattan, which was just hailed as the Best Bar in Asia. The other four include Native, which was also this year's Highest Climber (No. 13), Atlas, below, (No. 8), Operation Dagger (No. 23), and 28 Hong Kong Street (No. 34).
The top 10 bars are listed below. To see the full list of the World's 50 Best, drink them in here.
1. DANDELYAN (LONDON), also the winner of Best Bar in Europe
2. AMERICAN BAR AT THE SAVOY (LONDON)
3. MANHATTAN (SINGAPORE), also the winner of Best Bar in Asia
4. THE NOMAD (NEW YORK CITY), also the winner of Best Bar in North America
5. CONNAUGHT BAR (LONDON), also the winner of Legend of the List
6. BAR TERMINI (LONDON)
7. THE CLUMSIES (ATHENS)
8. ATLAS (SINGAPORE)
9. DANTE (NEW YORK CITY)
10. THE OLD MAN (HONG KONG), also the winner of Highest New Entry
Source de l'article : https://www.forbes.com/sites/passport/2018/10/05/the-worlds-50-best-bars-new-luxury-beach-resorts-and-more/#73d765343482